02 Apr

OTHERS FILMS IV
CHANGES OF ATTITUDES AND NEW PLANS
FOR WHAT WE HAVE SEEN UNTIL TODAY, IT IS IMPOSED AS NECESSARY TO SEE OUR PLANET AS A VIRGIN MATTER FOR SCIENTIFIC RESEARCH, BECAUSE WE DEFINITELY HOSTED EVERYTHING AND MORE, FROM WHAT WE ATTRIBUTED AS POSSIBLE IN OTHER PLACES.
AND IRREMEDIABLY WE MUST FORGET FOR A TIME, EXCEPT THAT THE OFFICIAL BUDGETS ALLOW TO EXPAND THE FIELDS OF EXPLORATION, THAT THE FASCINATING THERE IS ONLY IN FAR SPACES AND REAFFIRM THAT THE EARTHS HAVE ALL THE WONDERS AND WONDERS AND WONDERS. VOLCANIC REMAINS THAT PRESERVE THESE FOOTPRINTS THAT BELONG TO THE BIRTH OF THE WHOLE UNIVERSE.
VARIETIES OF INTELLIGENT LIVING SPECIES IN STATE OF MATTER SUBJECT TO GRAVITY AND INVISIBLE INGRÁVIDAS WITH OR WITHOUT MATTER OR VISIBILITY AT WILL, MAINLY.
PHYSICAL PHENOMENA WITH APPARENT INDEPENDENCE, BUT THEY SUGGEST THAT THE NEW APPEARANCES ARE THE BASIS OF EVERYTHING UNEXPLAINABLE IN OUR NATURE OR SECOND DIMENSION.
PARALLEL PHYSICAL LAWS AND OPPOSED TO THE KNOWN.
VIDEO Nº1 – NEW GRID TYPE SPECIMEN AND LOOKING FOR "THE 5th COLOR"
---
VIDEO Nº2 – THE SUN
MOVINENTS AND OTHER ANGLE OF THE CAMERAS.
THE SUN COMES BACK AFTER RAINY AND CLOUDY DAYS.
THE REQUEST REPEARS THAT IT IS NOT ALWAYS SPHERICAL, WITH MORE RAYS THAN TODAY ARE NOT PENETRATING.
HE HAS AN ADVANCED POSITION TO OUR SUN, AND THEREFORE SHOWS US SOMETIMES THAT HE IS NOT AN EMANATION OF ANOTHER.
INTERESTING, ALTHOUGH I NEED TO CONFIRM IT, ARE THE PARTICULAR DETACHMENTS THAT COME OUT AND RETURN TO HIM, RATIFYING MY ASSUMPTION THAT IT WOULD BE A TRANSPORT AND BEING THE CAUSE OF THE EVIDENT MIGRATORY CURRENT WE SEE, AND THAT OUR ROCK IS THIS AND ARRIVALS OF THESE NEW FOREIGN COLONIES.
---
VIDEO Nº3 – THE SUN AND ITS SATELLITES
THE SUN THAT TRANSPORTS TO THE COLONIES. THE PHENOMENUM OF GREATER MEASURE AND MORE COMPLETE IN ITS DESCRIPTIBLE NATURE AND FOR ITS FUNCTIONS.
IS THE SUDDEN MOVEMENT BY THE DISAPPEARANCE AND APPEARANCE OF THE SPECIMENS ON THIS SITE NOT OBVIOUS?
IF THE PLANETARY FIGURES ARE NO LONGER WITH US, IS IT JUST BECAUSE THEY ARE PRESENTING ELSEWHERE ON THE PLANET WHERE THE SUN POSSIBLE IT?
IF TODAY IS NOT THE SEASON OF THE EGGS, BUT NOVEMBER-DECEMBER, EXCEPT FOR STORM NIGHTS, IT IS BECAUSE IT IS ELSEWHERE ON THE PLANET.
EITHER THAT THE HYPOTHESIS OF THAT MIGRATORY PROCESS FOR THE EXCHANGE OF THEIR LIVING BEINGS IS REAL AND DOES NOT DISCLAIM THAT THE "APPLICANT" IS ALSO POSSIBLE AS A TRANSPORT, EVEN THOUGH WE ARE SUSTAINABLE BY A NATURAL TRANSPORT OF INDIVIDUALS, WHICH ARE YOUR OWN TRANSFER, AS WE SEE YOU DO AT SPEEDS OF LIGHT IN ALL VIDEOS. BUT THIS LOGIC IS NOT INTERESTED.
THIS ARISES NOW AFTER I TAKE CERTAIN PROOF THAT THESE PARTICLES THAT ARE DETACHED AND RETURN TO THE SUN OF THE PREVIOUS VIDEO, ARE TRUE MOVEMENTS ACCORDING TO THAT INTENSION, AND ALSO FOR HAVING DISCLAIMED THAT THEY WERE NOT HANGED BY ARACHENTS.
HOWEVER, I WILL ADD NEUTRAL CAMERA VIDEO OR OUR DIMENSION C: 01-EV FOR YOU. CHECK THIS TODAY HIS BEAUTY IS SUBLIME.
TWO OTHER ADVANCED SATELLITE SPHERES OF ORANGE AND VIOLACEOUS COLOR ARE ALSO REMOVED. THE FIRST MEASURES 60CM IN DIAMETER. THERE IS ANOTHER THIRD NOT DEFINED.
---
VIDEO Nº4 – DILATION NIGHT
New camera focus 03 from E: V
April 8, 2020- Cloudy night
13 to 15 degrees centigrade
186 masl
He had the water reduced for 48 hours and movement stops, except for the sun-dependent little sun.
Last night I doubled the liquid spill and they return.
The 9 original videos will be uploaded from 00:00:00 a.m. to 08:00:00 a.m. and from 00: 9: 42:00 a.m. to 09:59:00 a.m.
For the researcher, I go up the expansions of the foliage, lights and rock that have greater clarity.
Dilations are a constant here.
---
VIDEO Nº5 – PRINCIPLE OF SPECIFICITY GOVERNING THE CAMERAS
I show in this video that he has a new focus, to another invisible being coming out of the light, that only he is filmed, but that does not exclude that other phenomena are present there all together.
The cameras have individuality or specialty to the one who will select to film it, due to a selective process so that this or that is seen, assimilated, identified and recognizable by the human brain.
An order parallel to it with the same objective, I have also established to announce the discoveries, staging them from simple to complex, given the rejection they generate, about those who cannot form an idea or have an opinion about it.
---
VIDEO Nº6 – ROCA COMPRESSES VARIOUS CENTIMETERS
---
VIDEO Nº7 – LITTLE SUN AND ABSENCE OF SUSPENDED PARTICLES
Sunny day and morning
Diaphanous sky
First solar rays from dawn to hs. 08:14
Rays to the patio:: hs 08:28
T-C 11¤
Humidity 89%
Atmospheric pressure 998.5 h.PA
This video is uploaded when the little sun has already abandoned us until next year.
See the absence of particles in suspension that I consider determining to describe the complete nature of this phenomenon that has already shown us all of it.
THE TRASUNTO THE LITTLE SUN
It is the most wonderful wonder that our eyes have had the happiness of being able to contemplate it, because through it we see that other world of inexhaustible and inexistent energies in sight, of unlimited peace, in which nothing is random.
That it is not only our origin participating in the creation that life and matter have given us, but an invisible universe wrapped in the mysterious membrane that only The Uncreated can explain it, and that they have allowed me to go through it again, so that we can see in in a real and evident way that we are not alone nor are we unique, and that those other beings and phenomena that we are seeing in videos surround us, that work hand in hand with rules and eternal truths, as vigilants to the intangibility of order and purpose that is assigned to us.
---
VIDEO Nº8 – SPACE IS ELASTIC
You've seen it all …
These are constant images of every day.
Euclídes would have doubted before writing his axiom of the parallel lines.
Or Gauss and Riemann would also have been skeptical of devising the curvature of the lines that meet in a circular space.
And Eintein would have delayed his hypothesis of the curved space and the dimension of time until it did not cover the entire reality of the entire nature, more now that we see that the same forces that have given us the existence, today are concerned with sustaining and pushing us into the space crossings. We need other and new theories.
In the invisible universe today unveiled, space and matter that are shared by both natures, are elastic in random directions and time generates more doubts than certainties.
Will a theory unique to them be possible, or should we forget those variables and take a serious turn in the analysis as I have been holding it since the beginning, what reason have I had to prove it by opening the dimensions?
---
VIDEO Nº9 – WHITE PHENOMENA
These "white phenomena" are inconsistent. If I turn on the lights in the room, they can react by turning off theirs or turning them on like this case.
I only go up to that light on camera 04, because it is more spectacle to show them at four on a single cell phone screen, which if possible with all together.
It happens when I rest sitting next to Noorhn, and I am only struck by the flyby to the rock, of a smooth butterfly of a single color.
See "the principle of specificity" as all 3 cameras film and not 2 and that she is involved in the phenomenon.
---
---
VIDEO Nº10 – ASTRONOMIC OBSERVATORY –  THE MOON
I must defer the observations that I have anticipated placing the C: 01 E / V pointing to the little sky that I have, due to the abundant grove. There will also be new images of this moon and everything that appears to us.
As a scoop a dwarf moon or our moon appears to my surprise and joy at a greater distance than the current one.
It means that it confirms what yesterday said: that time in this dimension offers only doubts.
Either there are two or more different astronomically parallel universes, or this moon is dating that primordial nature that we have under study. Or it dates us because of comparative differences.
TIME IS STOPPED
In it, the Earth has its smallest or most distant Moon as in its first years of birth.
That detained dimension is dating us too and I do not think that it is difficult to calculate the time necessary to arrive at our measurements or our evolution that becomes evident, as we see live and real times.
Wonders never cease
---
VIDEO Nº11 – THE MOON ON HIS SECOND NIGHT
I have seen this and other phenomena for a fraction of a second, which promises soon that this camera will show unusual novelties, that I would not be surprised if the theory of heliocentrism is the current model in this dimension of the first births.
Today the new Moon returns to its same position of yesterday. It is visible in its same line and height despite the cloudy.
It has turned the Earth in 25 hours, which takes 29 days for ours.
Yesterday's disappears at 00:00:26:48
Today's disappears at 1:00 p.m.
Distribute those seconds more, between 25 hours.
It does not seem to describe a uniform circular parabola and the rays seen in seven of them, the most prominent ones, which bring together other minors, may indicate that if it is not a star orbiting, it is the same ancient moon at a great distance, invaluable by me.
Finally, the history of the origin has been visually opened, and our field of vision in the other and neighboring dimension has been extended to 300,000 or 700,000 more kilometers, depending on how I see that moon further away.
I want to clarify to the distracted reader:
I speak of history or an ancient moon. This confuses whoever.
Nothing here is history. They are two dimensions and everything I show you is happening today.
Today they have a dwarf moon or more distant and we have today the one we know.
But because it is the same world with two superimposed natures, what one or they live today, it is very likely that we have lived it before. It is not traveling to the past, although in its results it is as if it were the same.
And since they in that dimension of energies live and tread on our very material world that we touch, there is no reason to exclude that their moon is only theirs and not ours, because our sun and the other energies that surround us all, it gives life to them, as we see, as it does to us.
The only individuality that exists as exclusive property is our natural constitution and the abilities that we are endowed with. They are powerful energies and we are limited organic matter, but all the inorganic matter that surrounds us is the same for both of us, even though we live separated by a curtain.
The difference is that they have no past or evolution, which is essential for us.
This is insofar as we only refer to the invisible and invisible beings of sporadic appearance.
Today we all have 2 moons on our heads, but you only see one and I two.
And going back to today in this last section that this new Moon advances, it increases its measurement by approximately 50%, because it is more limited in our view, which should not be because in the circumference it is always the same distance or radius whatever its position.
But whatever results from this unbearable phenomenon, it is possible that in the beginning of time the planets were not closer to each other but the opposite, contrary to the astronomical imaginary, although the distance at 73 km / s and the greatest distance between the planets day by day, it is today absolute truth in science. But the Moon is approaching us.
In the final stretch of this moonwalk, she increases speed by approx. 20%. as if its trajectory did not describe a circumference because they are different distances in decrease the closer it is to us.
If I estimate that its speed is 30 times that of our Moon, it is assuming that both are at the same distance, and as if this ancient Moon that we did not know was a dwarf Moon.
Its trajectory is from south to north and not from west to east as our Moon does.
But if she were further away, as she appears, then at that speed it would have to be multiplied by another higher number.
Through this video we also confirm that this new ecosystem is from our primeval times of our existence as a planet. Consequently, it is a reliable document of our own dating or of belonging to an entirely different universe.
---
VIDEO Nº12 – THE THIRD NIGHT OF THE MOON
ASTRONOMICAL OBSERVATORY
No news on the third night of open sky, with some cloudiness, for a Moon with lunar rays.
Today disappears from screen at 02:14:26 AM
It presents an ellipse displaced to our right, which is the west of the moon. Everything the opposite of ours.
Note that this moon seems to be more of our dimension, than of theirs, since it does not change measures because it has rigidity, unchanged color, with a fixed course and is punctual in schedules, that appears and disappears at predictable points, and is constant?
But if between one and another dimension the difference is only in their translucent living beings and the intelligent vegetation, this moon is the same as ours, seen in or from another era.
Our Moon is the evolution of the moon, faster, bigger and closer to us.
It has solar rays indicating that it emits its own light and not that it revotes the rays of the sun.
We will see how their constellations are today, and that since they do not know the time, they will look the same as on the first day of their creations.
From my experiences in this, whether due to future and past dimensions, I conclude thus:
A- That the ecosystem with its individuals and vegetables that inhabit the rock, is our dimension, that we see them, we water them and we have an excellent old friendship. And that its attributes with similarities to beings of the first dimension is due to its origin from the center of the planet that keeps and preserves its involutionary past intact.
B- That the invisible and invisible beings of sporadic appearance correspond to the first dimension of our origin, today evolved and transformed. They participate in the entire material universe, of emptiness and of nothingness, and are the primordial of cosmic creation.
C- That all matter before our current and future near sight, seen from our dimension, belongs to us and to our creation or origin.
Today we know because we see that this dimension of birth is only the nature of energies that inhabit our same space with or without matter from the entire universe.
I must expand the vision of the cameras until we reach where our gaze reaches, thus seeing the fabric of white lines, which dominate all the suspended and moving bodies of the cosmos, to test my hypotheses.
The current radius of 700,000 km is very insufficient, that we have reached nothing.
Today I have ordered four cameras that installed in a more suitable place, will look towards the sky.
Will the Earth be solid and all the planets, stars and comets fly confused and at extremely high speeds, deforming and self-dividing or joining in the air, of various altered geometric figures? Or will there be straight lines there in your sky?
At least since the moon is spherical, it is likely that all the other bodies are also, except for surprises in this, which I fear.
---
VIDEO Nº13 – THE FOURTH NIGHT OF THE MOON
AND THE NECESSARY TIME TO GO FROM YOUR DIFFERENT STATES TO WHAT TODAY IS OUR MOON
Today it disappears at hs. 03:11:27
It continues its elliptical movement to the west.
Today he is accompanied by another moon that looks more like another celestial and red star, to our left, smaller and in the same orbit, in more distant. We will see tonight these new stars to which I will limit myself to filming them without comment.
This star presents the best model to corroborate existing scientific research on the age of our moon.
These conditions in which it is found, facilitate the investigation of the time required to set stages for the different basic movements of the new moon, data that the other celestial bodies of space that we will see will not possess.
On the other moon its different states such as distance, its coordinate in its space, its speed, volume, its times, and with its ellipses, will be temporarily measured until one becomes the other.
Its two ellipses from south to north until changing from west to east and the displacements of one and the other, will be those that determine their age of formation not only of the moon, but it will be the floor to measure that of our planet.
---
VIDEO Nº14 – THE FIFTH NIGHT OF THE MOON
Today, April 16, 2020, it disappears at 5:00 a.m. The irregularity of this daily time continues.
His ellipse returns to our left to or to the east of the moon, evidencing that the lateral ellipse will be "coming and going" towards "west and east" and vice versa in only one segment of space, which will validate as another stage of his movements that will help date this.
Today it is no longer accompanied by that celestial and red body that we looked at the night before. Uniformity is unknown in this dimension of the first era, which is not surprising.
AN OBSERVATION
Last night, which is a starry night, and two hours before the appearance of this moon, I support my eyes with the camera and she "blinds" our dimension and does not capture the images that my eyes were seeing of those bright stars , as reserving for the other phenomena to come.
I said before that the look at that dimension is selective and programmed to facilitate our observation.
I say this because when I put into operation the new camera that I am waiting for, this will get complicated and it will only be this walk in the sky suitable only for astronomers, where I am excluded.
---
VIDEO Nº15 – THE SIXTH NIGHT OF THE MOON
Today he disappears at 04:52:11 just before the point of his final career on the screen. Weeds that interfere or deform the figures are cleaned.
The ellipse continues eastward to the east in apparently regular degrees.
A DIMENSION OF THE FIRST ORDER
Here is a moon that ellipses back and forth from west to east and backwards, within a small segment, but it is possible that this responds only to how this, which is an unknown vision for you on other levels, is aligned with me. personal desire to contemplate phenomena.
I clarify more. As the space or hole that I have to see the sky is only 4 or 5 meters open, which in turn is distant 15 meters from the camera, further reducing the visual channel, the lunar event is necessarily exhibited within that measure, perhaps not coinciding with reality, for which we will wait to see the degrees in which this moon moves with precision.
But the important thing is that it is real the march and countermarch in opposite directions of the moon, as it is seen.
And when you install the camera to the open sky, to that segment and its limits or the beginning of the ellipse displacement that comes your turn to reverse, we can see it and calculate it in degrees and complete that spatial spectrum of changes or rebounds of direction, which will theoretically interest Astronomy to have more extensive information.
---
VIDEO Nº16 – THE SEVENTH NIGHT OF THE MOON
Disappears today 04-18-2020, at 05:41:15 which is the time before the end of the race
OTHER NEW ASTRONOMIC STATES OF LA LUNITA
A- Spiral orbit that opens and closes
B- Circularly, to a heart
C- Ellipses on its axis in more turns to our Moon
Free from obstacles on another diaphanous night, the moon shows a smaller measure of its circumference due to its distance from the earth and its figure is not spherical as in recent days, but of a heart
Its orbit continues to move east. And if we compare it with that of the past 12th, we see that its size has been reduced to 50%, that is, it has doubled +/- its distance from Earth
But not only that, because the greater or lesser distance is inherent in it, but because of its modality
Describe an extended spiral in three dimensions or open, describing extended and more distant circles whereby the second orbit is already superior to the first and so on until it ends its race and begins the return by returning to earth by decreasing its circles
Changes of their faces are observed (not today) that will be due to the rotation on their axis. It is a black spot at its center, which is different from the craters that we see today. That is, that contrary to the current one, each day shows changes in the face that it shows us daily
And the ellipse continues its advance of 16 degrees +/- approximate lateral towards the East, if we look at the days 17 with respect to the day April 16
My calculation, with the ruler and transporter of an infant, and some field tables, is that in approximately 30 days this moon goes around the Earth of today, or the primordial Earth of the other dimension of the first era
It is definitely different times that we know of our moon, such as "the gears and counter gears", which being a switch to count the time of the turn around us, can only be compensated with a higher speed than necessarily has
This way of tempting me to explain the total time by degrees, now that we know how many it is, and the time from one step to another that lasts and that we also know, is because of how unusually unusual this is, that better admit myself mistake, that ancient moon comes and goes or slows down his career, to which I soon await his clarification
Consistent with today's observations, it turns out to be:
A. This is the evolution of the moon in 7 days, following my own numbers, which if you will understand:
April 12 – starts at # 15.12 ¤
April 13 – falls back to <E 14.70 ¤
April 14 – advance to> O 16.00 ¤
April 15 – falls back to <E 15.50 ¤
April 16 – falls back to <E 14,12 ¤
April 17 – falls back to <E 13.05 ¤
April 18 – falls back to <E 11.70 ¤
# 5 is equal to 5 ¤ degrees, with too much inaccuracy, but it is exactly the directions to the East and West, and its graduations in more or less, which is what matters to us for now
B. That the moon rotates on its axis while it rotates around the planet. It appears that it takes several days for a single turn on it and we do not perceive if those turns always do it in the same direction
But when the Moon of today has been delayed or has stopped orbiting the times that it did before? Or has the orbits flattened, its spiral disappearing?
C. That the moon if it travels around us with much more speed than it does today.
D. That she, on her journey, makes stretches in which she stops in an open curve and returns to the path that led to her arrest before doing so in the opposite direction
E. That if we measure the degrees that it covers in a day, that is 16¤, this does not guide us to multiply it by the days of the month, by the comings and goings of it and because we do not know how many times it is that way per month
For this and all the stages that we mark of this phenomenon that we see, it is surprisingly different from our Moon, and invaluable for calculating the useful time to carry out these transformations.
---
VIDEO Nº17 – EIGHTH NIGHT OF THE MOON

Today, April 19, our moon disappears at 06:15:11 p.m., losing itself in the last ramage we have left, very little of the mark that I use to follow the elliptical movements and their times. We have less space than the orbital degrees that a next moon will take up
This limit reached shows to be the end of career that I can reach
The ellipse is due east on the lowest grade reached on its eighth day: 9:90.
See the sequence staggered from largest to smallest in the size of the moon, which always pronounces its distance from Earth.
In this photo and video, he cannot hide his figure of a heart and that of the stain, evidencing the latter that the same face persists, or without turns, facing each other – Moon and Earth – as ours does today.
There are no more news to highlight.
---
7 PHOTOS OF THE MOON
Their objective is:
A. Show the differences in their sizes between the first on April 12 and the rest, as if it were almost double, as it appears
B. This difference indicates the spiral movement in distance or second orbits that mark greater or less distances to Earth, with a very pronounced distances between that first orbit and the next in this new category of unknown double orbits.
And I don't know yet, if in this new orbital movement worthy of study by Theoretical Astronomy, the "twists and turns" or "braking with U-turns" also happen, as we already explained for the common and lateral ellipses of left and right to E¤ and O¤.
C. Also that in that first photo of the 12th, the face with the dark spot, which shows that it rotates on its axis faster than the current moon, is not observed, if it should be. That is to say that this moon will show several faces a month, something different from our moon that every day of the month always shows the same
D. These great astronomical states of the moon, which require a large space surface to unfold, are they not telling us and anticipating that we will soon see an empty sky or with few suspended celestial bodies?
– – – – – – – – – – – – – – – – –
However, to this stain if it is seen clearly at a greater distance, or in the videos
These photos are taken at the same distance between the camera and the screen, and the moon is in all the photos in the same flattened spatial coordinate, changing only that referring to its lateral ellipses of the E¤ and O¤. The one from April 13 is omitted because it is imperceptible in the face of the cloudy sky, to which I can only make out its trajectory.
I note and repeat that on the body and in its center and below the upper endure, these photos do not show its dark center, which has this moon, except for the one on the 12th, and which differs from its current craters. You can also view them in your videos.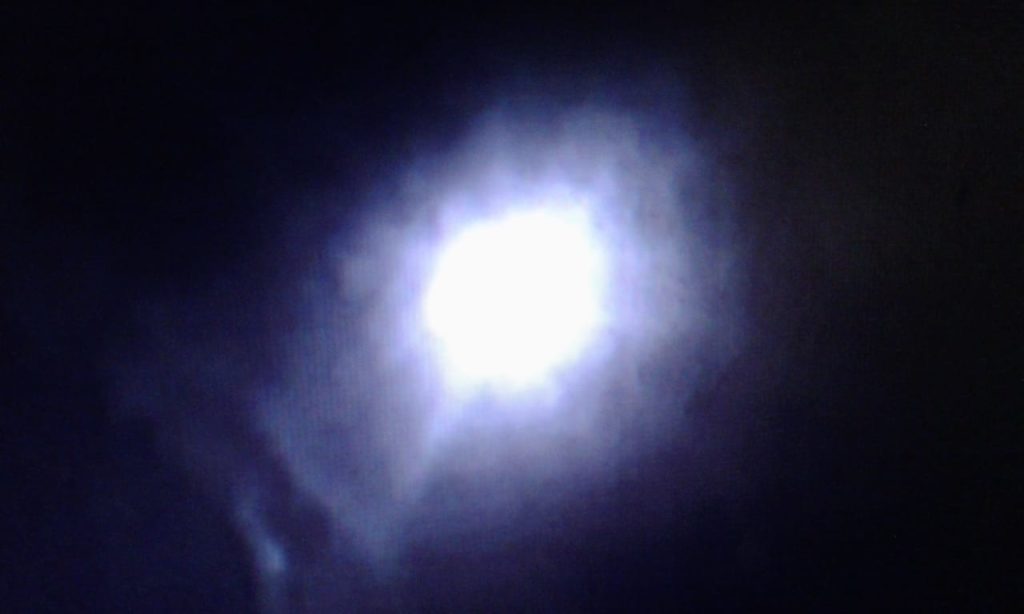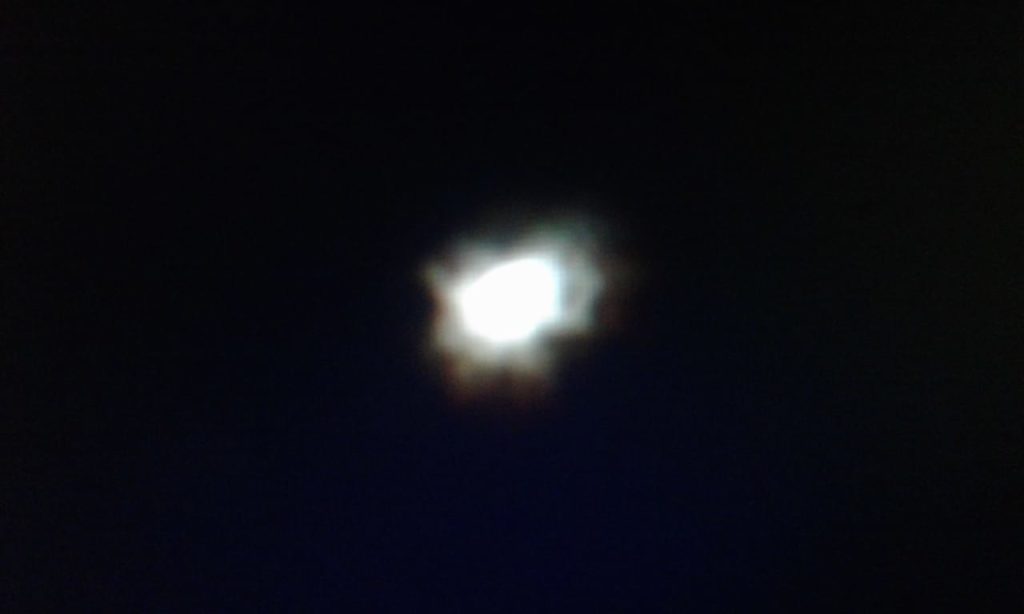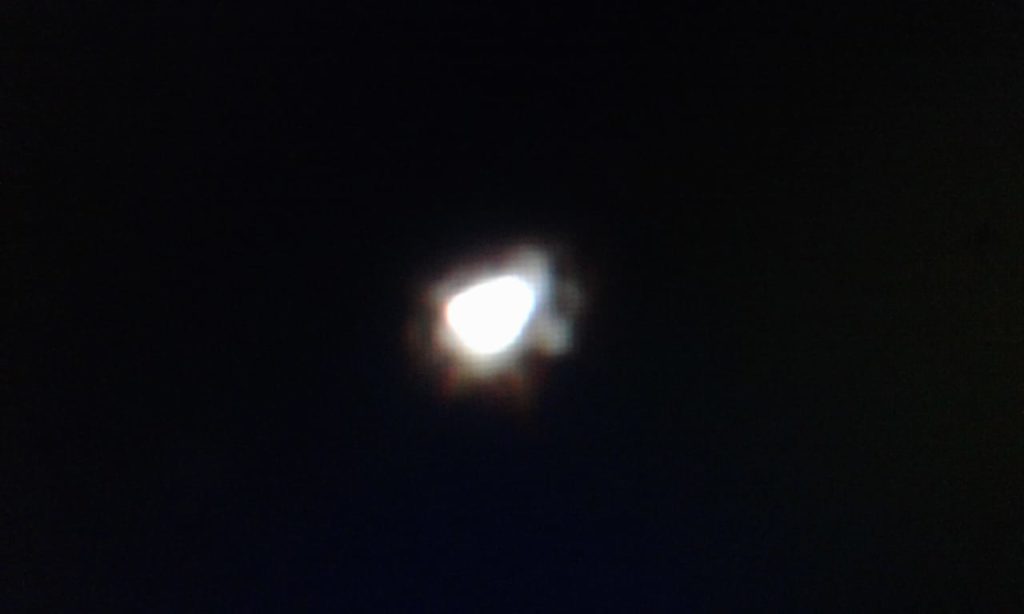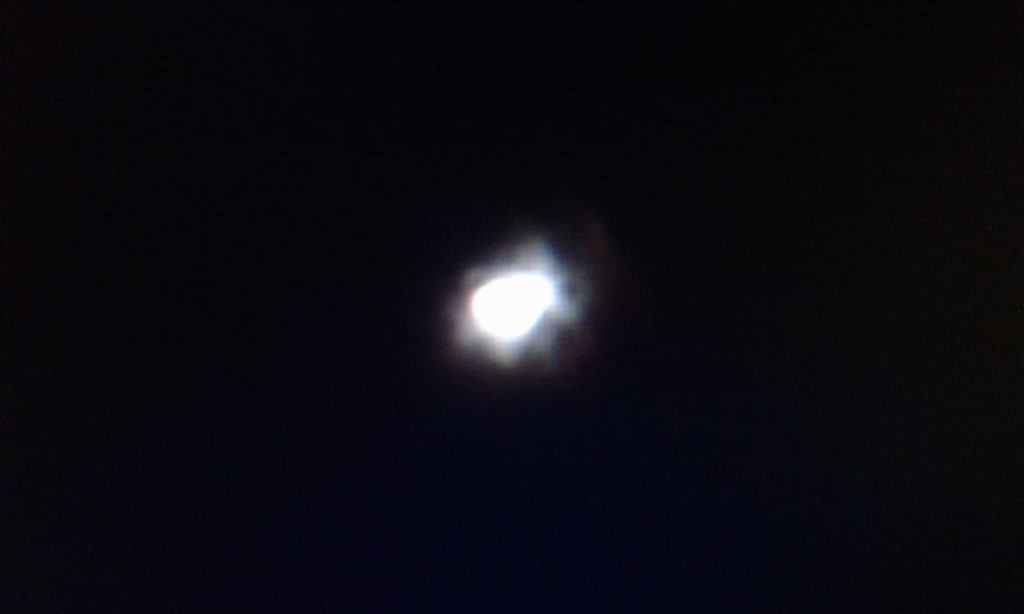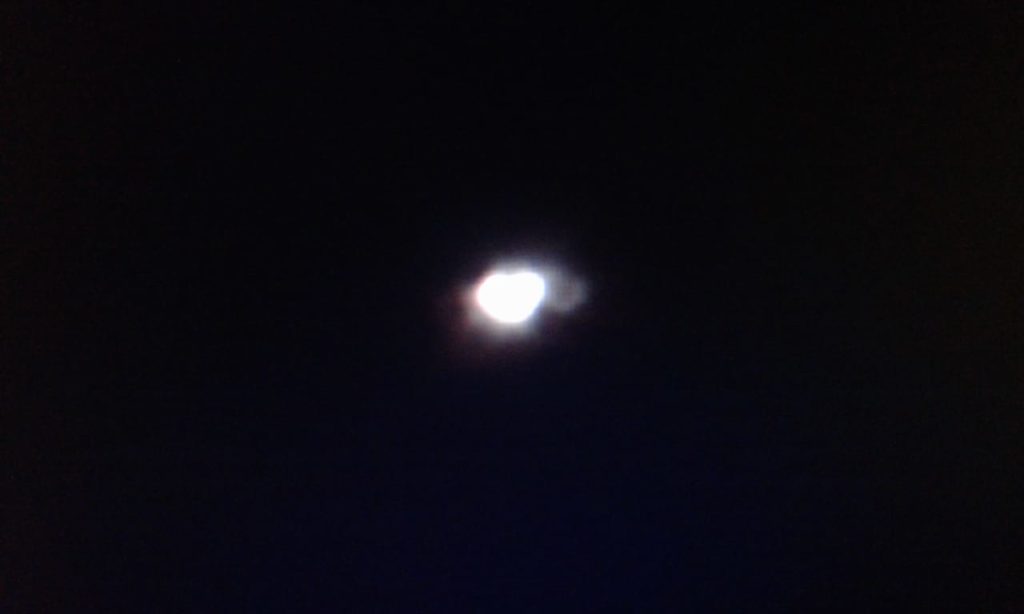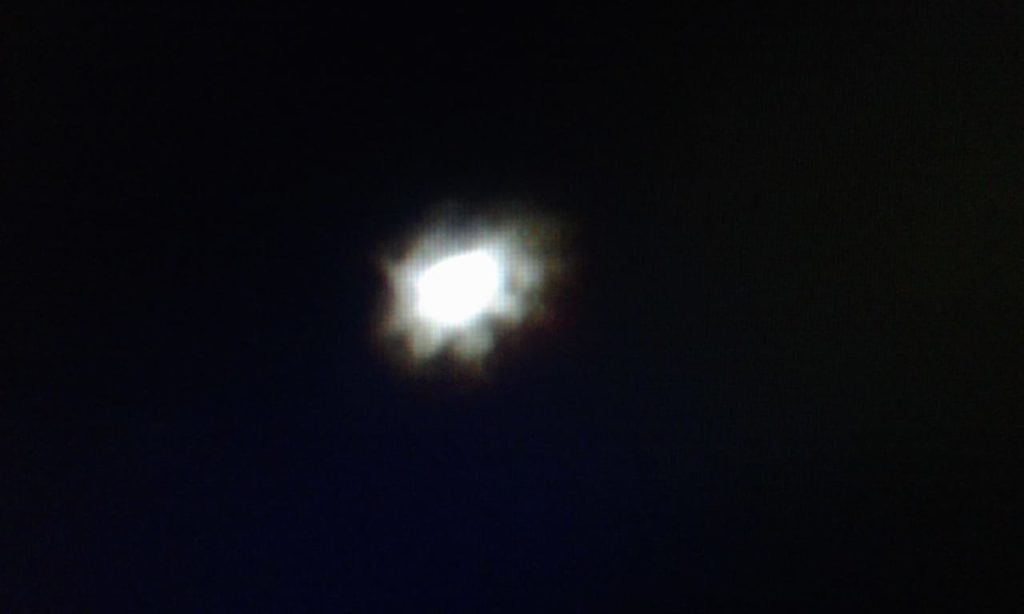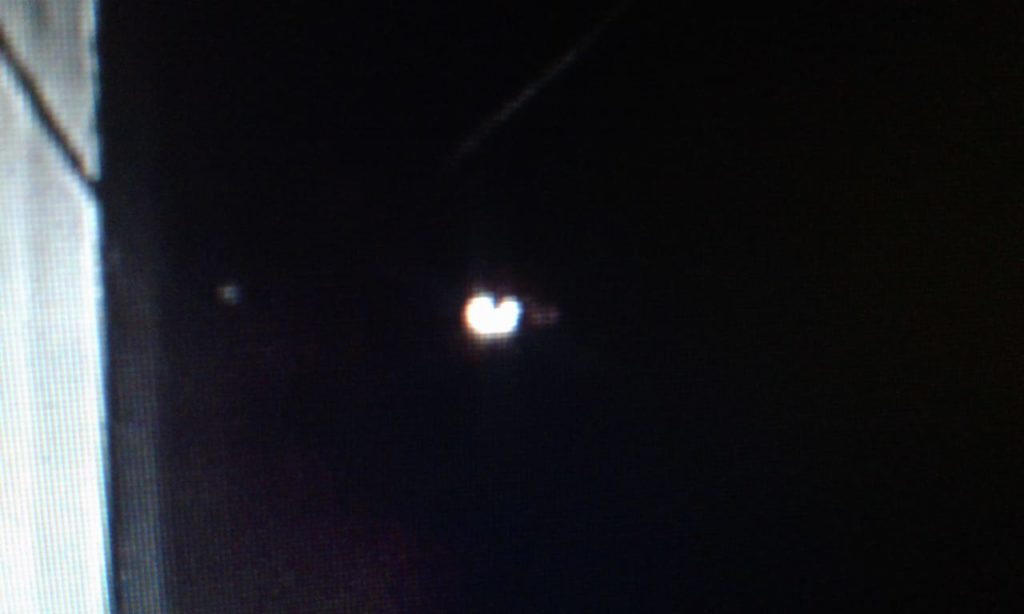 ---
NIGHTS OF THE NON-SPHERICAL MOON
FORMS AND GRAVITY
I did not anticipate these observations since the end of the moon's career would not be seen, because that displacement would occur outside the available frame where sight is impeded, but as we see it leave, it is simple to calculate its ellipse to its end
Complete previous statistic
So today April 20, I can only mark his trajectory that continues to the East until he reaches the grade 8.80. The mark of the previous orbit, remember that it is 9.90. In other words, non-constant displacements continue, as with its linear S-N direction of advance, certain short deviations are seen.
THE FORM, THE MOVEMENT AND THE GRAVITY
The filming equipment that I have are simple residential security cameras, as seen on the screen, but that record what we need
And only an astronomer could interpret the shape of this moon, because its non-circular lines could be external effects that distort its appearance, reason I have had to be cautious not to assert the shapes of the moon
But I have to describe what I see
Except for the first image on April 12, they all show an irregular figure that we can compare with any object in the home and not in the great cosmic space. This makes sense with the thousand proofs that I provide in my work
Their figures are hearts and not circles. Circles are those of those planets where gravity is at its center that attracts all the matter that surrounds it. They are absorbed in a homogeneous way and it always increases round
Without gravity, without friction or bearing, the shapes and movements of everything and of what floats in space is free, and you will see it when we look up at the sky
This has full support with my theories that in this other nature where the moon is, gravity is unknown. We see it in more than 150 videos
The first dimension of the origin, which we look at when I run the veil that covers it, is the world of the weightless. We see two worlds in one, inhabited by us and them. They see us and we don't see them. They are in a virgin state, without evolution and so on until the end of time. They are not old. It is the moon that is how we see it, for whom time does not exist.
I insist that we do not take a trip to the past, nor is it our history of the past. This feeling will invade you today when you see the photos. It will seem to you that this deformed moon with strange movements is the same as ours, and that the passage of time has given it its current form and virtues. But no. All of this is complex and unnecessary.
Today we live among many dimensions, stepping on the same tile, but separated by veils. Just run it like a curtain, to see and interact. This is simple as I have practiced it. First entering and that shared with others, it was only worth to discredit me. Today I film it and I don't carry weight
That Moon is now above us, even if you do not see it, and it is as such it is and as it has always been the same, because it does not evolve, and that is why it will seem to you that it is our time to change, I repeat, it will not happen
THE SUPPORT ACTIONS OF THE PLANETS, START FROM THE INGRÁVIDA AND PRIMIGENIA DIMENSION
Everything floats there at will, to the point that my theory of sustainability, its movement and trajectory of the planetary system is based precisely on the fact that everything is the work of the Geoastromins and fundamental forces of that invisible system, which exert effortlessly on all the seeming matter without weight, adding there that in those weightless worlds, with a breath we can propel the planets into an endless race.
---
VIDEO REPEATED IN ALL SECTIONS
THE COSMIC ARACHNID IN MOTION.
March 10, 2021
I repeat it. It corresponds to November 25, 2020. I would have to reinsert it in each Section, not only because it is the most viewed, but also because it shows his body movement. In addition to the fact that the content of this website is very long, most readers enter only one section or another and fail to see that these beings by their will if they have sustained movements in a way that we can recognize.
And for this reason these new forms of intelligent lives are precisely misunderstood, because they lack movements. For months, night and day in quiet that is not leisure. They make and carry out their natural mandates. Although always stiff, which, added to their lack of defined lines, resemble for these causes more indefinite spots or small white or raw clouds without bodies or faces floating, than to intelligent beings or individuals or animals of our nature that have been seen or imagined.
ARE IN GENERAL, ACROMATIC AND INANIMATE GEOMETRIC FIGURES
That is to say that they have no recognizable form, to suppose them to be "lives" by themselves, nor their intelligence since they cannot distinguish a face where it can fit. No feet to walk or mouths to feed. At least now we see him doing "braceadas", in the style of our dancers. As for the face, once I manage to see it only to this being, and to others but in doubts today.
In this video one of them "comes alive" because he moves abruptly for the only time and without concealment in annoyed response to my express request not to leave that music room until they show me his face. After a month it fulfills in this way how they are seeing it and moves to the adjoining gallery. The other that you see next to him, continues for 5 months also faithful to my request to always have him close to me in case I need him. But to make it possible, I do not allow anyone to enter, or to clean that room. I have it closed although I can enter without turning on lights, unless it is from the cell phone.
I will repeat it in more, to help the understanding that the stillness of those other figures, is just a pose chosen by their nature, and that I compensate it with the animation accelerated by spacers of the cameras in intervals of 30 "each. , that otherwise they would go unnoticed.