22 Apr

OTHERS FILMS V
IN THE DIMENSION OF CREATION, EARTH RECEIVED LIGHT FROM A COLD DWARF STAR?
This is an observation to the first video where we see an intense backlight.
The color of the light that my patio receives in the early hours of the morning, we have already seen in many videos: deep borravino red.
This suggests that the Earth in its creation was so small that its light received it from another nearby dwarf or small star. That the Earth orbited around it, and that this cannot surprise us, since science today maintains that these are the characteristics that these planets that we seek to colonize must have.
And this happens on an Earth when the only thing it was or had was only what we now call its "center", with nothing above it, where we are today.
This also happens, when I lift the camera to incur in other more invasive phenomena in the other nature of creation, today giving attention to what the light that the Sun gives us today at the beginning of the universe looked like, what we are seeing at hs. 9 PM, which is one hour when there is a time difference of 2 hours, or that begins at 09:50 a.m., so that both are in the same position.
Then I will upload videos with a greater vision of this phenomenon.
---
VIDEO Nº1 – 2 GREEN IMMIGRANTS OVOID SINCE 3-4-2020- 1 WHITE RESIDENT- A STRONG RED LIGHT THAT APPEARS EVERY MORNING AT 9 AM. P.M.
---
VIDEO Nº2 – A VARIETY OF PLANT IN THE CENTER OF THE EARTH. DOWN LEFT
---
VIDEO Nº3 – ANOTHER VARIETY OF PLANT IN THE CENTER OF THE EARTH
---
VIDEO Nº4 – THE LEVITATOR
---
VIDEO Nº5 – THE LEVITATOR-DUPLES IN WITNESS CHAMBER
---
ALFA CENTAURI B STAR CONSTELLATION
The ancient belonging of the Earth to that mythological trinary constellation located just over 4 light years from the current position is evident.
And of course there is a scientific gap in the knowledge of its existence there, of its disappearance or of how it is transferred, as well as the estimation of the time for the formation of the Universe, which, beyond doubt, is much higher than that taken by true today, but that time estimated at less, is responsible for preventing the inclusion of the greatest quantities necessary as probable
ria that are required for the development of the planetary creations and transformations that have truly happened.
If the life time of the planetarium were one hundred times longer than accepted today, we would assume as possible and real the steps that I indicate for our planet.
But is there human intelligence to measure time from the appearance of the first matter and gases suspended in space, to today?
Or is there someone who measures the life time of my Greoastromines and other forces that I teach them?
It is that perhaps, and that I am convinced, is that there has not been an act of creation for them because they are creation itself, with nothing that precedes them, and that others will call it: "The Dimension of God".
It will be difficult then to coincide with me that this trip of the Earth for 4 light years, has been possible only because of an exploding explosion of our planet that orbited the suns there, and arrive here, in a fragment attracted by the Sun's gravity, joining its orbit within the Solar System.
I use visual language to explain all these phenomena, and from the beginning, with excellent results that are obvious, fully exposing the stars and their connections, which lead us to the desired origin of the matter and life, at least, of the Earth, and as theories, pertaining to the entire Universe.
This video number 1 in its final section, which we have left behind, is more eloquent, where it shows this cosmic event, and other videos that will come, like that other one that instantly appears and is somewhere on this website, which are those that exhibit the dawn in this found ecosystem, when this orange star projects its early lights on my black floors in the morning, advanced by 2 hours +/- to our Sun.
And I have put two cameras for this phenomenon. One direction swims towards the red rays of that cold and orange dwarf Sun that appears over my patio, and another to open in "El Mirador al cielo", which will once again show us its red lights from above. Both are in the circle of the heli port, already out of service that you see in the photo that follows.
OTHER MILESTONES TO THE CREDIBILITY OF THIS THEORY
It should not be forgotten that I speak of explosions, of being born there and coming to nearby but different solar systems, which is difficult to accept, but what is its basis and which does not require demonstration, is that three different forms of intelligent life , today we have lived together here, in the last almost 30 years, each in its dimension and that today we are all under our gaze in the same geographical coordinate
That the surprise of this analysis is due to the breakdown of the expectations that I had already explained, that the mysteries and wonders of the universe were among us and not outside
That everything I show on a rock face as a "Planetarium", which are innumerable as stars with a certain diversity, also belong to that same Centauri B star system. Otherwise my hypothesis would not be valid.
And it is evident that the scope of my observations reaches not only the Alpha Centauri B system, but as far as Astrology identifies them in their positions to the entire planetary inventory of this website, which will also perhaps be within the area surrounding other brown stars, as the spatial framework in which the collapse that marks our origin in the two solar systems has been unleashed, without changing my perspectives
---
VIDEO Nº6 – RED DWARF STAR
---
VIDEO Nº7 – INDISCIFRABLE INTERACTION I
---
VIEWPOINT TO HEAVEN IN THE FIRST DIMENSION
S 27¤ 46.1848 '
O 064¤ 13.5534 '
I am prepared with two cameras for family security use, to show you the sky, just as if you were present here looking at yourself, without technological support
This is how we should do it, since it is only a matter of seeing the spatial scope of our entrance into this other dimension.
A- If we only observe our surroundings as we have been doing
B- Or if we can visualize the orange star that leads us to the origin of the Earth.
If we manage to reach the Whole, we will know mainly:
1. Seeing the shapes of the planets or any body that floats
2. Seeing the colors
1. Seeing movements
3. Or seeing the speeds, which with these cameras is more than enough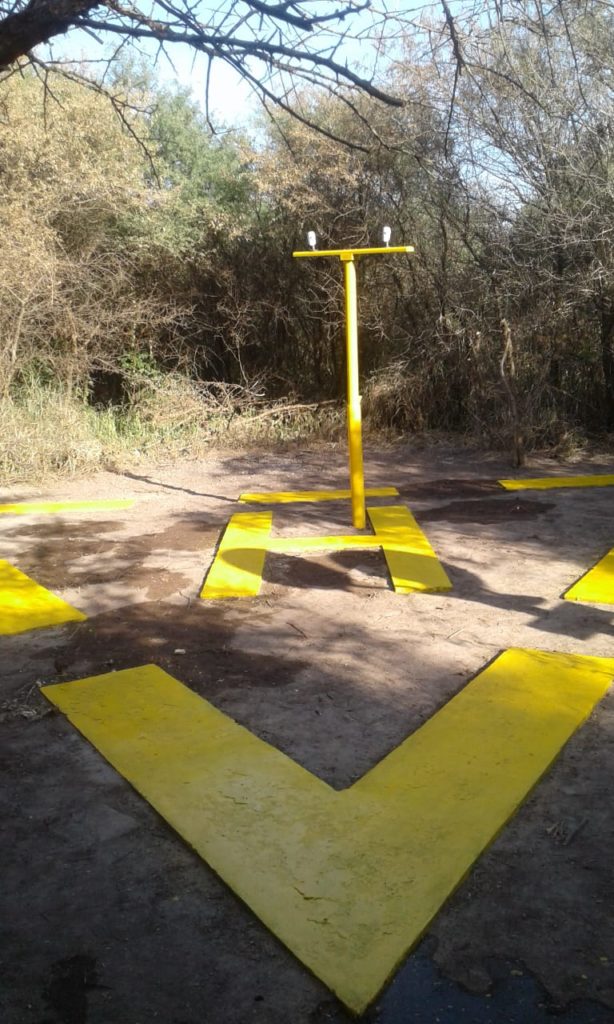 ---
WHERE TO FIND THE ORIGIN OF THE EARTH
9 VIDEOS FOR THE ASTRÓ NOMO TO ANALYZE, AFTER THE ORBITS AND TRAJECTORIES OF THE RED LIGHTS DRAWN FROM APRIL 10 TO 20, 2020 IN THE QUARRY OF NOORHN, AND DETERMINE WHICH CONSTELLATION OF THE BROWN STARS CORRESPONDS THIS STUDY
Or in which of the 100 red dwarf stars in the habitable area CJ625 closest to our Sun, in which it – that of Noorhn – is found.
And if my position with these sciences is not what the professional suggests, he must bear in mind that I only use an unknown tool to show mainly what current technology has not yet achieved, and that I cannot be denied that I have a method for others specific for the observation of objects that are under study of various disciplines, and that science will in the long term be able to build these two-dimensional viewers, in a double sense.
However, with what degree of approximation do they advance towards uncertain results, without a generic idea of ​​dual reality, which today at least is already seen as possible?
Or how clearly do you see through misted glass? That if you are not looking for truths it does not exempt you from cleaning it, because it is like walking without knowing how far you will go.
Stepping on new worlds and seeing them only partially, what will remain as space campaigns in vain?
Or perhaps give the news that there are now two suns, two moons and three forms of life separated by their differentiated attributes, and that all of them and we are aliens in the solar system or that one of them is prior to all matter, and presented In a state that does not fall under the denying designs of seeing or not, or believing or not, does he deserve more to be objected than to be forgotten?
This phenomenon of sunlight that appears in slower orbit in the East and further north than our Sun, with a few degrees of distance, which can be seen in the same videos, and which I film from hs. O8: 36-10: 30 AM quickly from the beginning and its end as a preview for the complete videos to be published after COVID-19.
---
AN EXTEMPORARY EX-PROFESSED CONFESSION
30 years of relationship with everything that is this new dimension, I have been deserving and I have been chosen not only to be the First Earl of Noorhn and a real "private" or "valid" of the Emperor of the Empire of the 6 Thrones, but also I have been endowed by the invisible Invisible Beings of the Dimension of Creation, with another unique and privileged attribute, granted this time to a human being, stigmatizingly, with an extraordinary mark, as is the transmission of a part of their nature implanted in my forehead, that is, making me participate in its very nature, giving me some special gift in my thought processes and our relationships, intervening as another of this First Order nature.
I upload for the second time a video that shows my brand in the form of a white sash on my forehead or ringed my entire brain, equal to the body of those invisible beings, when I enter the courtyard that was at the moment in the first Dimension and already getting up from my chair, I walk towards the house that is when it is seen clearly in the last 10 seconds.
A BRAND BY STIGMATORY MODE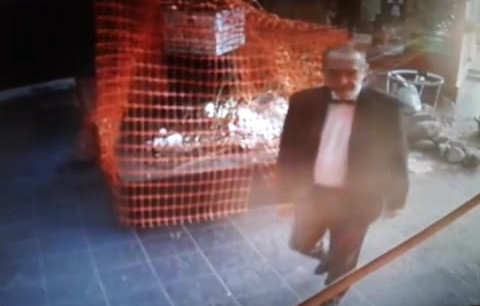 ---
HOW DOES IT TIMELY ANTICIPATE IT ABOUT THE PERIODS OF THE YEAR IN WHICH THE PHENOMENA OF OUR INTEREST ARE PRESENT, AND WHAT WE MUST ADD TO IT THE DISADVANTAGES OF THE COVID-19 THAT PREVENTS THE TECHNICAL CONNECTION OF THE TWO CHAMBERS OF THE "VIEWPOINT TO HEAVEN" SUSPEND WHILE BOTH THE INCORPORATION OF NEW VIDEOS, EXCEPT ONE THAT ANOTHER THAT CANNOT BE AVOIDED.
---
REAPPEARANCE OF TWO MOONS
Pleasantly he returns in regular appearance due to his ellipse of little deviation and in a period less than the month that I surmised
It also appears in advanced degrees, because of the cloudy ones that precede them, a SECOND MOON closer and that illuminates my house and that on the tiles of the patio they will appreciate it
Both orbit in parallel and with very few degrees of separation between them
The first Moon orbits every 25 days. The second is too early to make an estimate
I will limit myself to only showing them since their disparities increase that only the astrophysicist will be able to explain.
Although the second moon is the first to appear, I will finish with the one we already know and then I will show you the other one that is now surprising us, so as not to be confused
If time permits I hope to see if it also repeats the gears and counter gears or "U" turns. And if not, at least we already know the basics that are the 25 days orbiting us and that there are two moons that accompany us, with multiple peculiarities
---
TENTH NIGHT OF THE MOON
7-5-2020
It continues its ellipse towards the East and due to its greater extent than yesterday, it is closer to us, but with little or no orbital translation.
Show six colors
Today it disappears at hs. O1: 22 missing a small fraction until the end of his career, and ends at 15 ¤ or 14, 90 ¤
Each orbit is done every 27 hours, and these numbers with precision must be given by an astronomer
But let's move on to the most interesting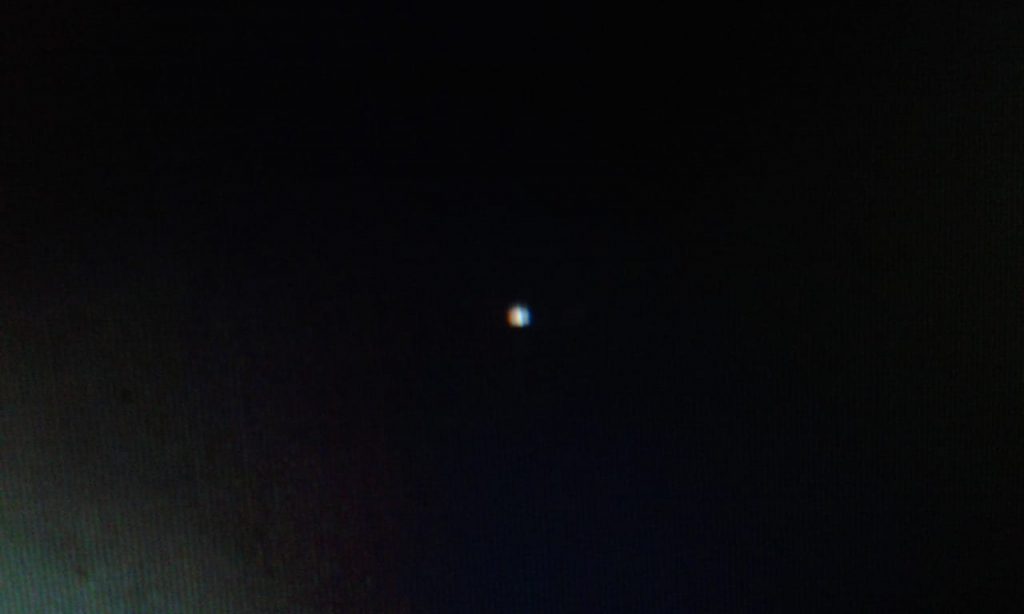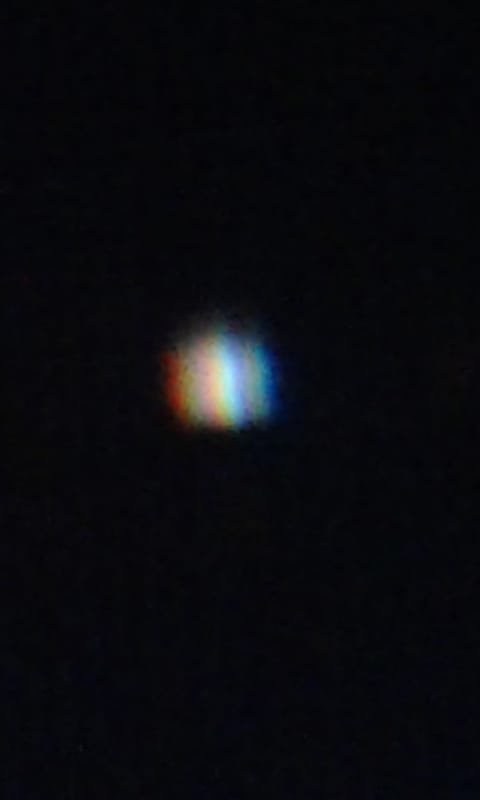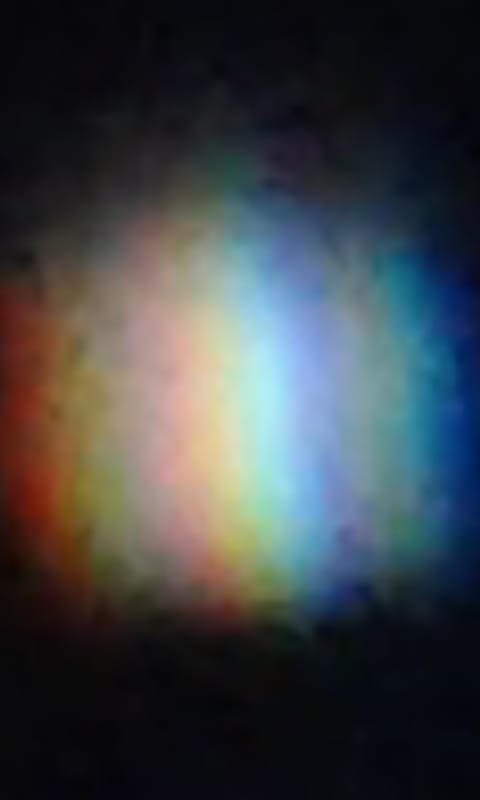 ---
ELEVENTH NIGHT OF THE MOON
8-5-2020
It approaches us judging by its larger diameter
Disappears at hs. O1: 18 'and by grade 14.90¤
Its color is already white with its light blue border that shows half a turn for some of its sides or being effects of lights that an astronomer or astro-physicist will say.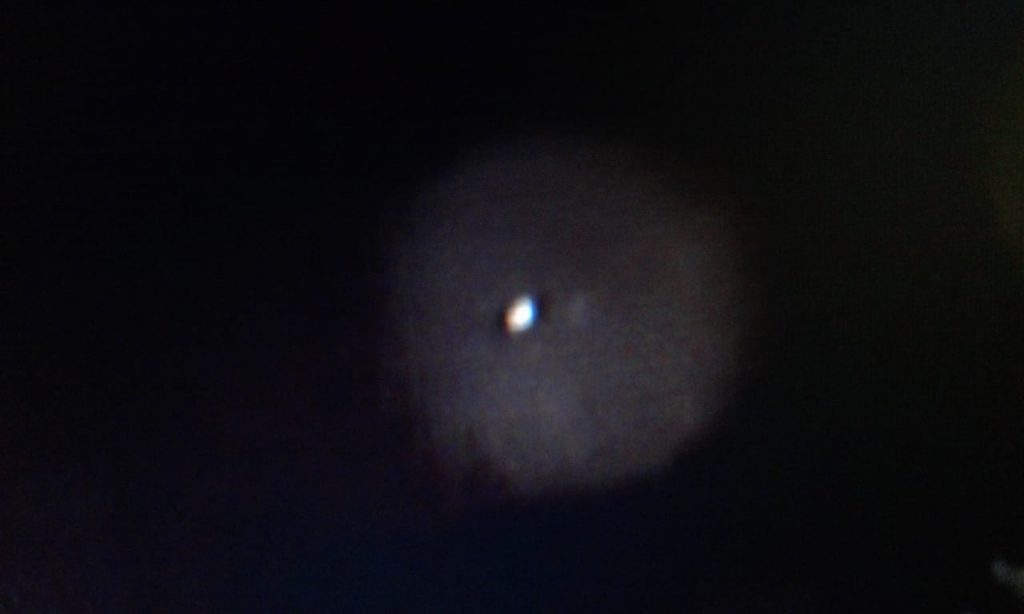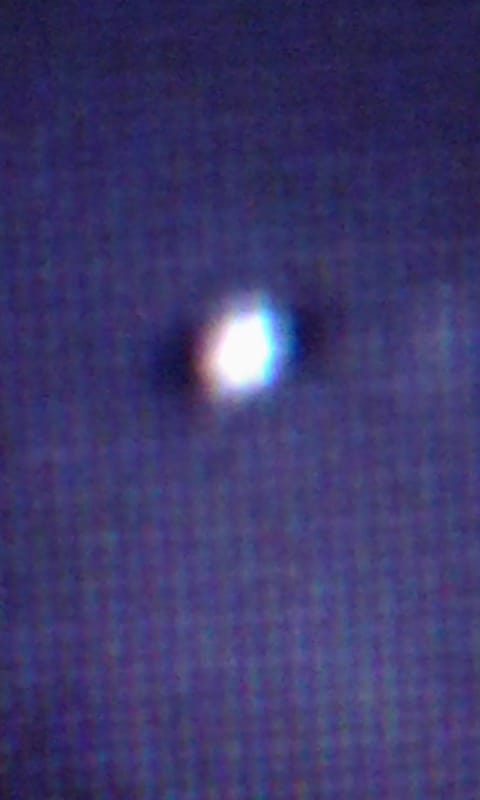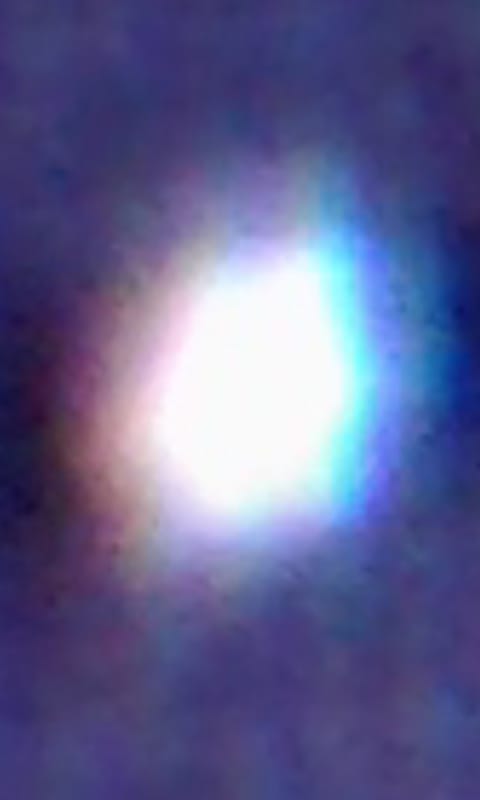 ---
FIRST MOON – 2nd CYCLE
10-05-2020
This Moon is still almost stopped at 14.85 ¤, continuing in minimum translation
It appears at 00:15:00 AM and disappears at 00:56:00 AM without finishing its elliptical run from O¤ to E¤ on its path from South to North. It is stopped at the coordinate without lateral movement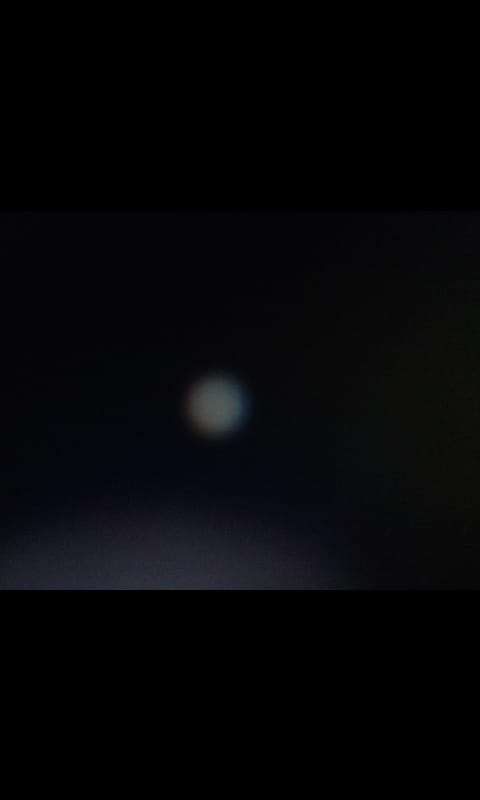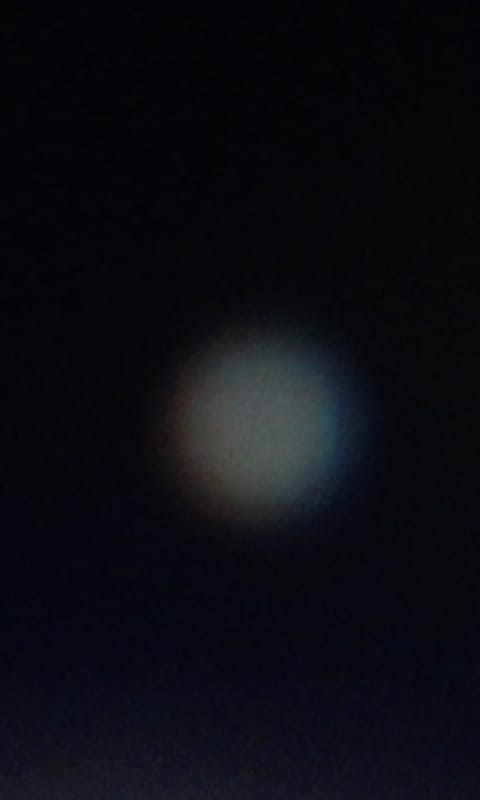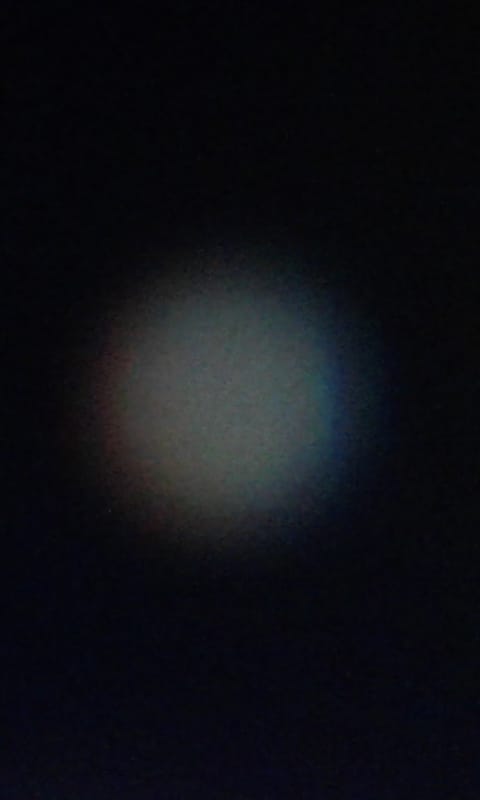 ---
FIRST MOON – 2nd CYCLE
11 y 12-5-2020.
DETAINED. NEXT TO ECLIPSE WITH THE OTHER OR SECOND MOON.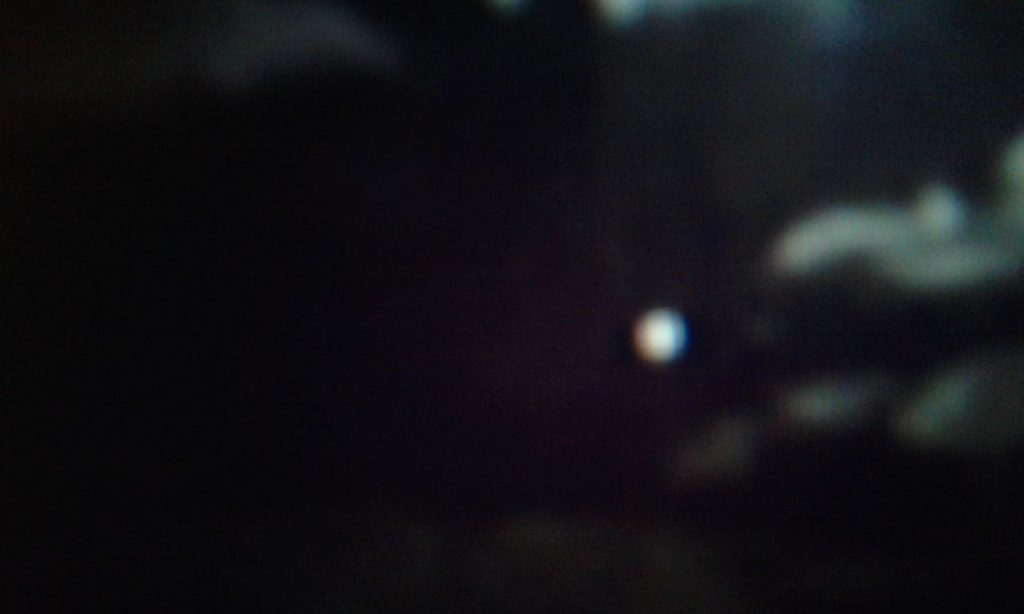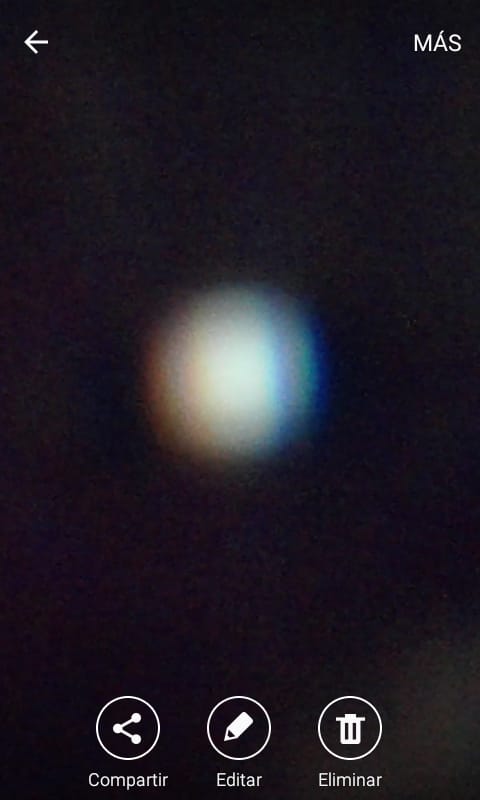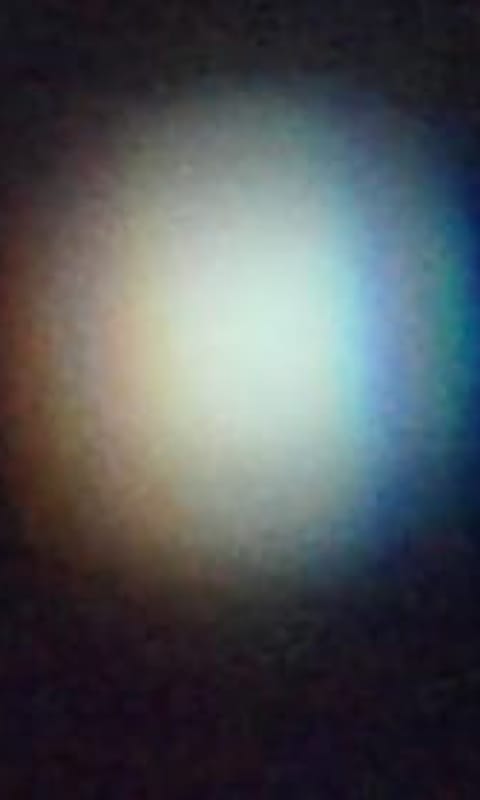 ---
FIRST MOON – 2nd CYCLE
15-5-2020.
The transfer to the East continues, reappearing after a day, to an increased extent, typical of the closest approach to us
Three photos in positions:
1- South-North end of race
2- in intermediate
3- expanded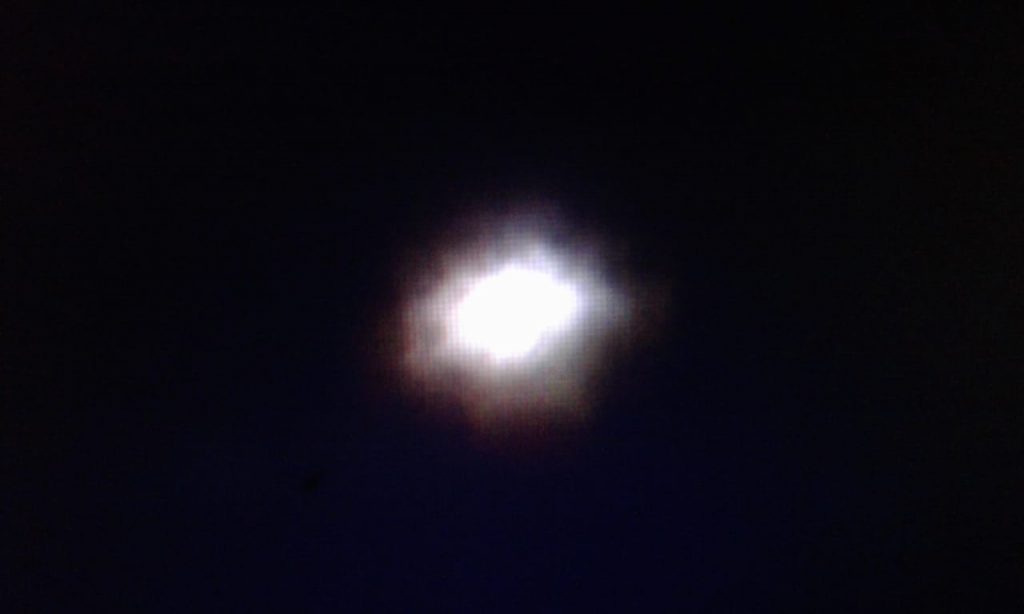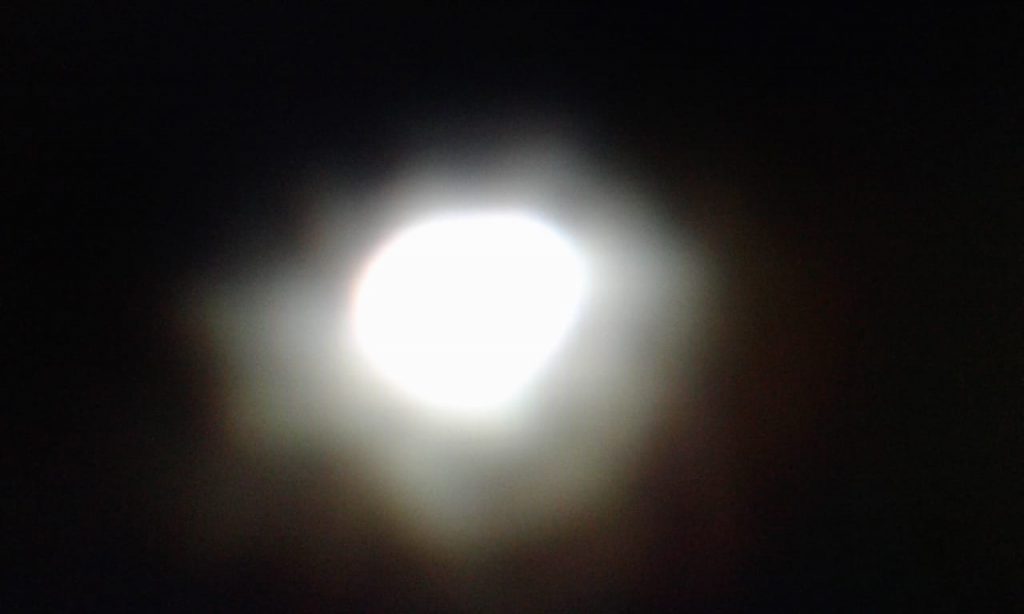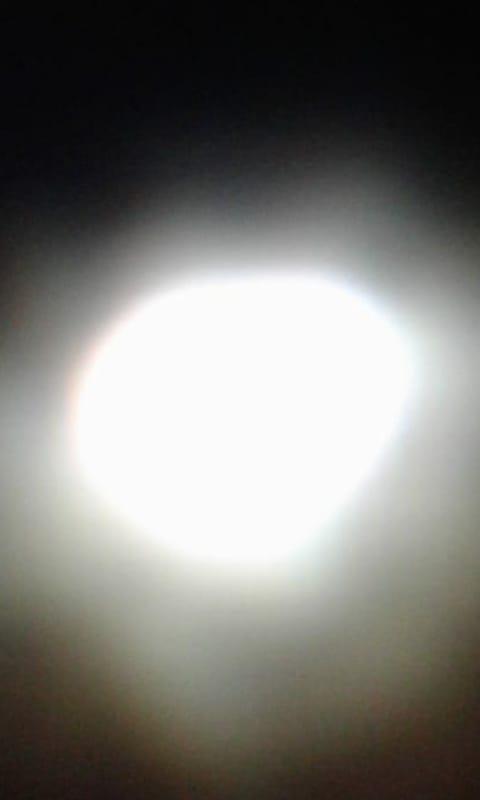 ---
FIRST MOON – 2nd CYCLE
16-5-2020.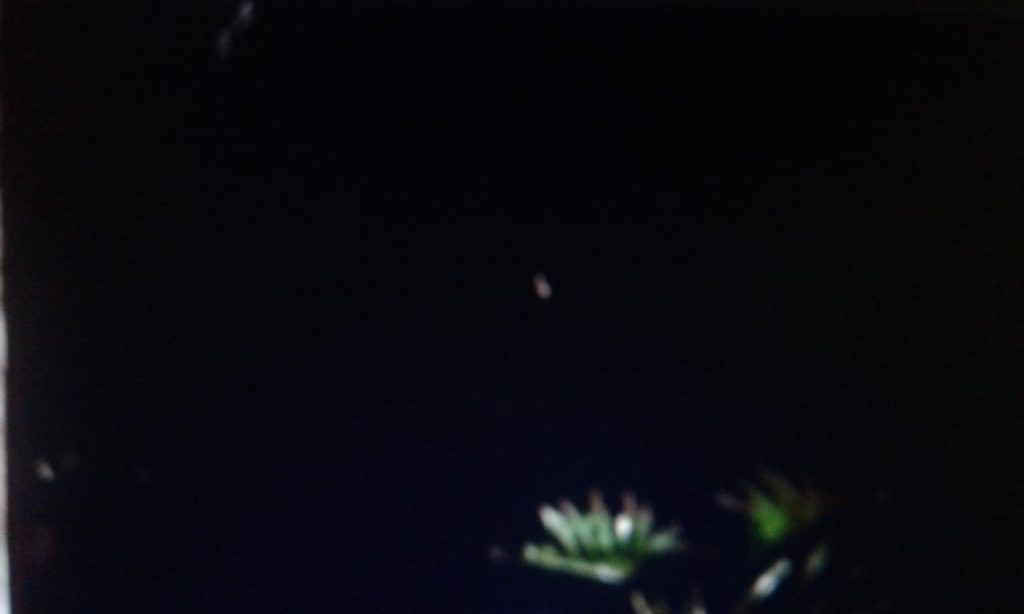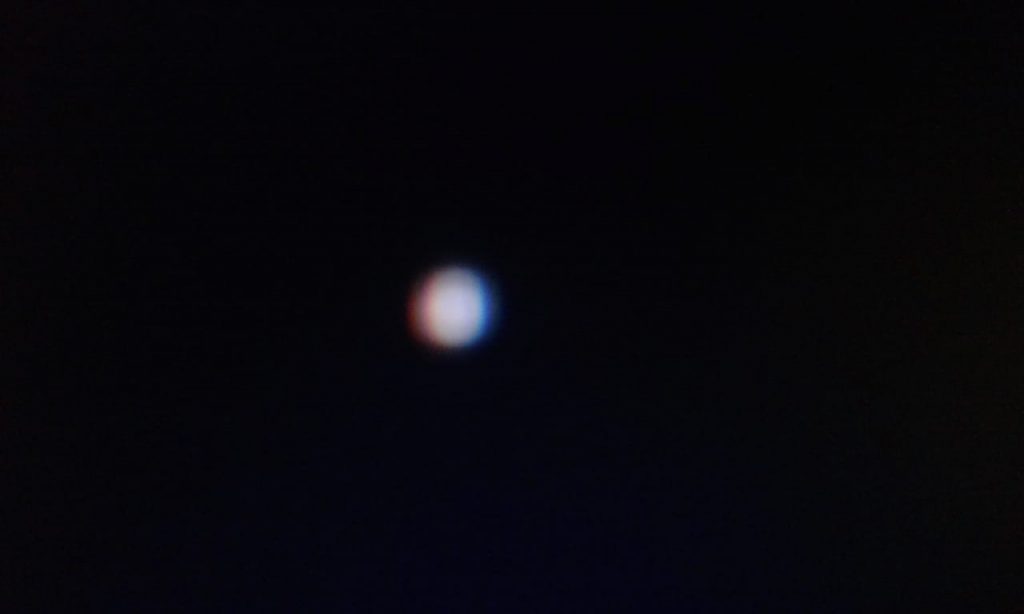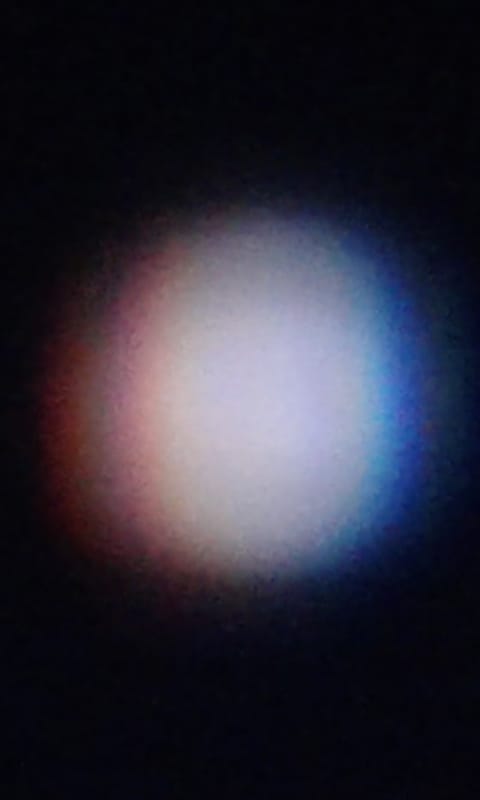 ---
FIRST MOON – 2nd CYCLE
17-5-2020.
He approaches us showing his heart shape and stops his race to the East.
Transfer to the East stopped.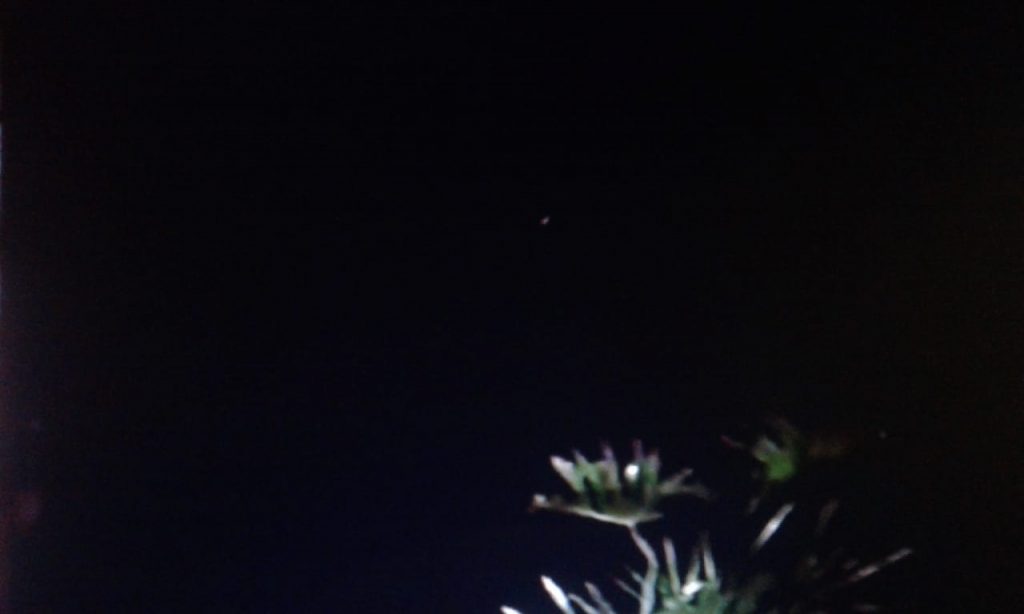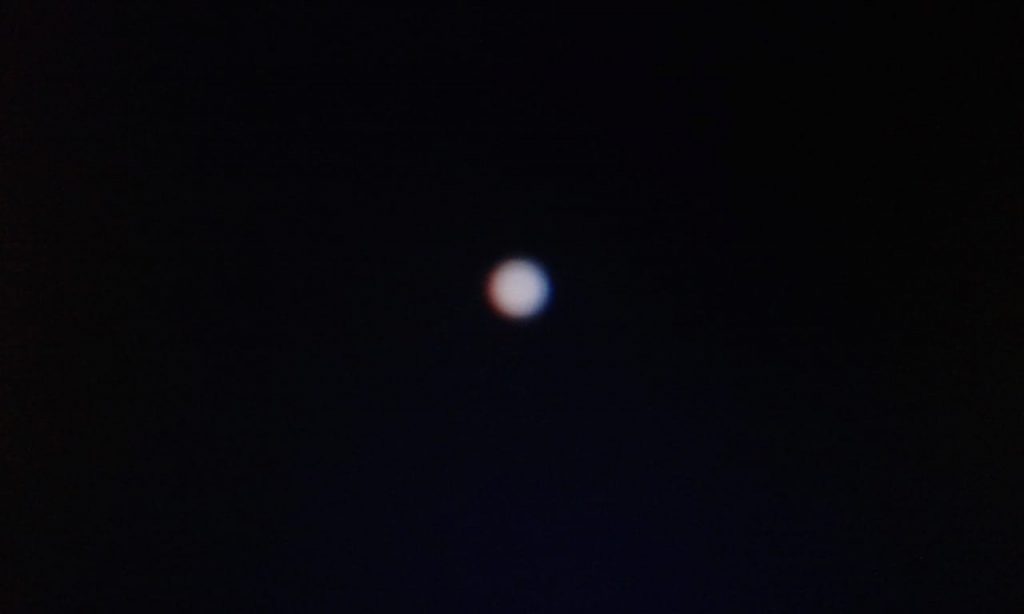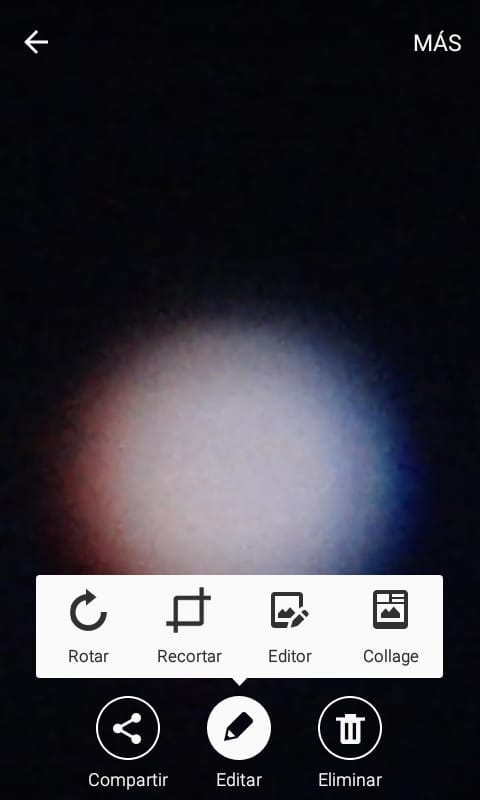 ---
FIRST MOON – 2nd CYCLE
18-5-2020.
The positions held in the same coordinate by this Moon in its second cycle, such as the "U" turns, or the braking and reversing of them, demonstrates the inconsistencies of the orbits in more or less predictable spaces, but in principle leaves unanswered the causes that cause it, because the absence of gravity does not explain everything, although the elasticity of space does, where nothing has been assigned and secured a place within it.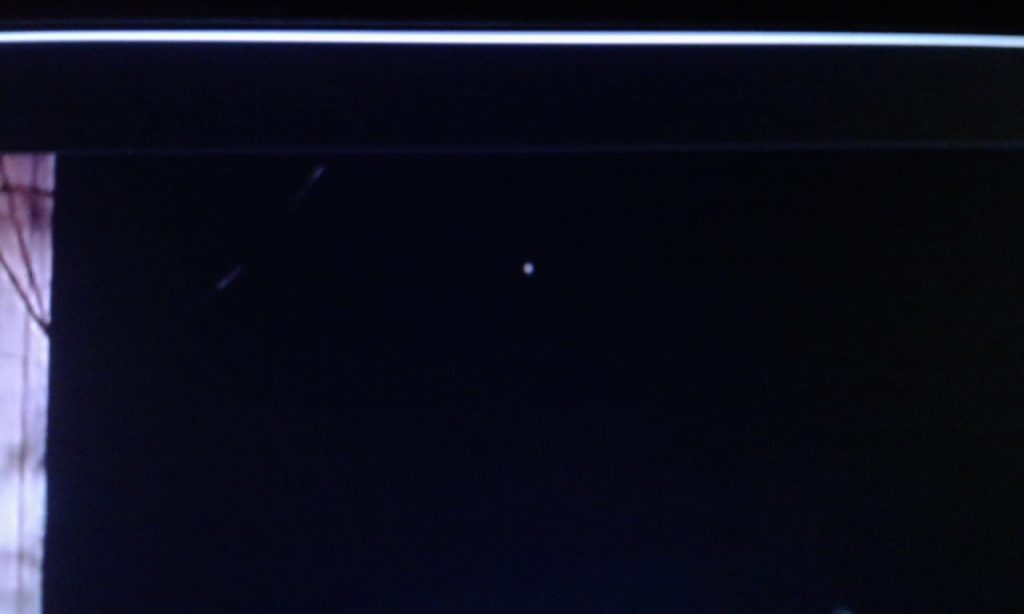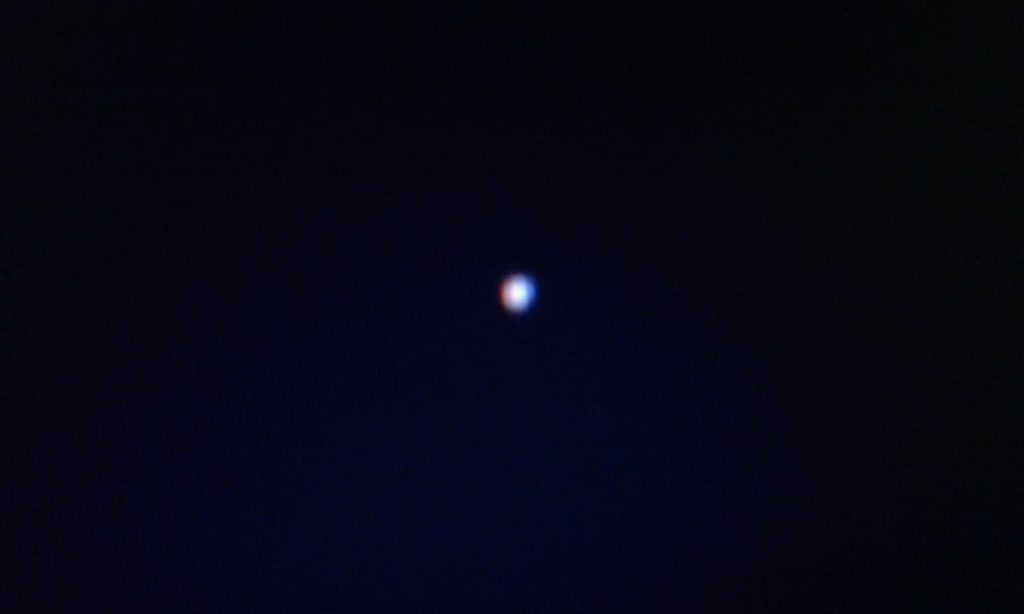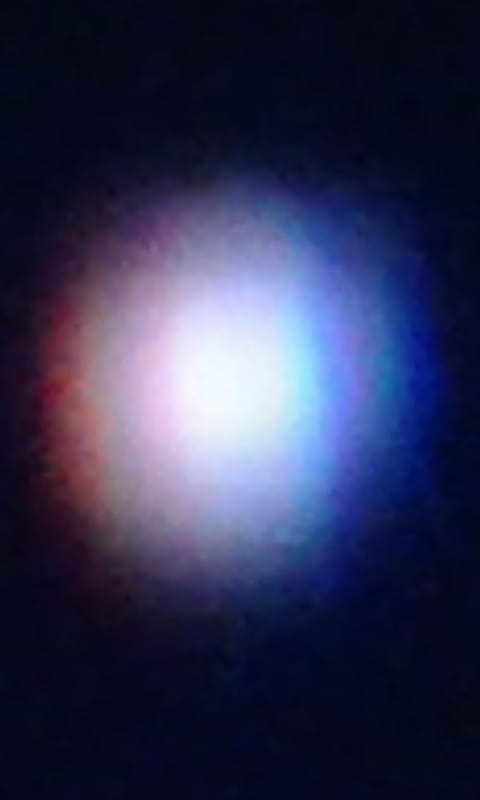 ---
VIDEO REPEATED IN ALL SECTIONS
THE COSMIC ARACHNID IN MOTION.
March 10, 2021
I repeat it. It corresponds to November 25, 2020. I would have to reinsert it in each Section, not only because it is the most viewed, but also because it shows his body movement. In addition to the fact that the content of this website is very long, most readers enter only one section or another and fail to see that these beings by their will if they have sustained movements in a way that we can recognize.
And for this reason these new forms of intelligent lives are precisely misunderstood, because they lack movements. For months, night and day in quiet that is not leisure. They make and carry out their natural mandates. Although always stiff, which, added to their lack of defined lines, resemble for these causes more indefinite spots or small white or raw clouds without bodies or faces floating, than to intelligent beings or individuals or animals of our nature that have been seen or imagined.
ARE IN GENERAL, ACROMATIC AND INANIMATE GEOMETRIC FIGURES
That is to say that they have no recognizable form, to suppose them to be "lives" by themselves, nor their intelligence since they cannot distinguish a face where it can fit. No feet to walk or mouths to feed. At least now we see him doing "braceadas", in the style of our dancers. As for the face, once I manage to see it only to this being, and to others but in doubts today.
In this video one of them "comes alive" because he moves abruptly for the only time and without concealment in annoyed response to my express request not to leave that music room until they show me his face. After a month it fulfills in this way how they are seeing it and moves to the adjoining gallery. The other that you see next to him, continues for 5 months also faithful to my request to always have him close to me in case I need him. But to make it possible, I do not allow anyone to enter, or to clean that room. I have it closed although I can enter without turning on lights, unless it is from the cell phone.
I will repeat it in more, to help the understanding that the stillness of those other figures, is just a pose chosen by their nature, and that I compensate it with the animation accelerated by spacers of the cameras in intervals of 30 "each. , that otherwise they would go unnoticed.