10 May

OTHERS FILMS VI
---
THE SECOND MOON- FIRST CYCLE
This new Moon orbits closer to us, while the other Moon moves away
Apparently it has more luminosity than the Moon of our dimension, and until now, it is on a full moon in a permanent state, as if the Earth of that time had no more mass than a large meteor, insufficient to interfere with the Sun and provide visible shadows and distinguishable on this moon
It also appears, because it is closer to us, to be more speedy than the other, in the marking in which it becomes visible or disappears from E¤ to O¤ and with different speeds. As of today they record these times between their disappearances by day to day, as indicated in the upper frame of the screen:
Hs. 20: 32'00 'for the day 6-5-2020
Hs 21: 16'00"for the day 7-5-2020
Hs 22: 10'00 "for the day 8-5-2020
Hs 23: 06'00"for the day 9-5-2020
In this way, calculate the times of an orbit, of the rotation if it has one, and more precisely to its translations, which are true interstellar trips.
In the coming night I will not take these notes and instead I will film the times that are on screen
It orbits Earth in 24 hours, 50 to 55 minutes approximately. But the greater amplitude of the other Moon's orbit assigns it another speed, which doubles or more this new Moon that has just appeared. If the other moon persists in moving away, it is possible that it will be out of our visual contemplation in the coming nights
Both do it laterally in opposite directions, at least in these periods, if they are our moons. Not my topic
But warn now not to the astronomical phenomenon, but to the reach of our vision in that other dimension. And today it is not its reach, only the almost million kilometers along, but to the return of the light of this moon that makes it over my house when it illuminates it. See the patio floor
The late appearance of it obeys the clouds on those previous nights
The cameras are the common surveillance cameras, I repeat, and the photos are from my old Samsung J1 cell phone, I think.
SECOND MOON- 1st. CYCLE
6-5-2020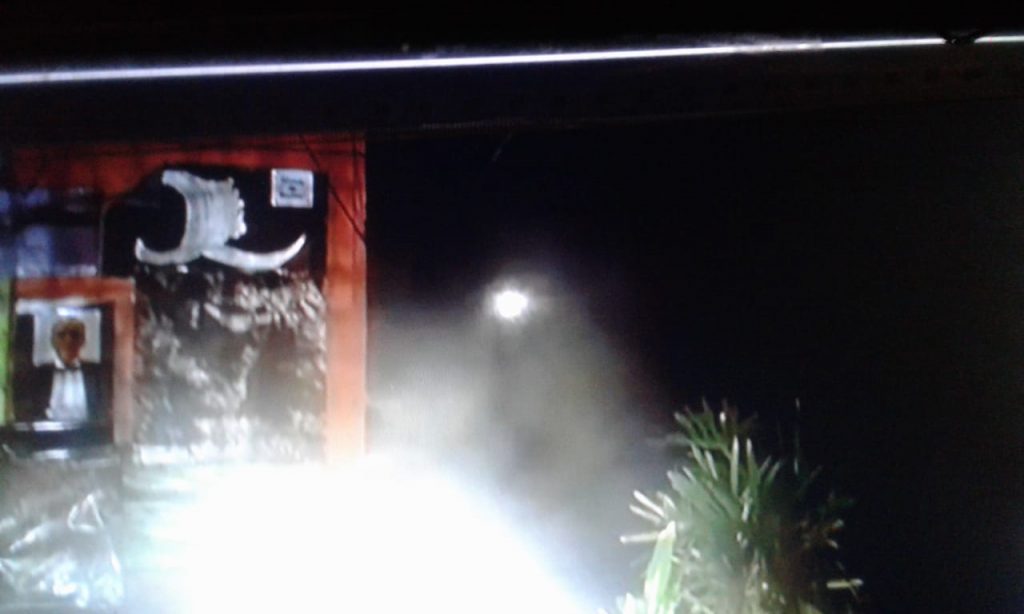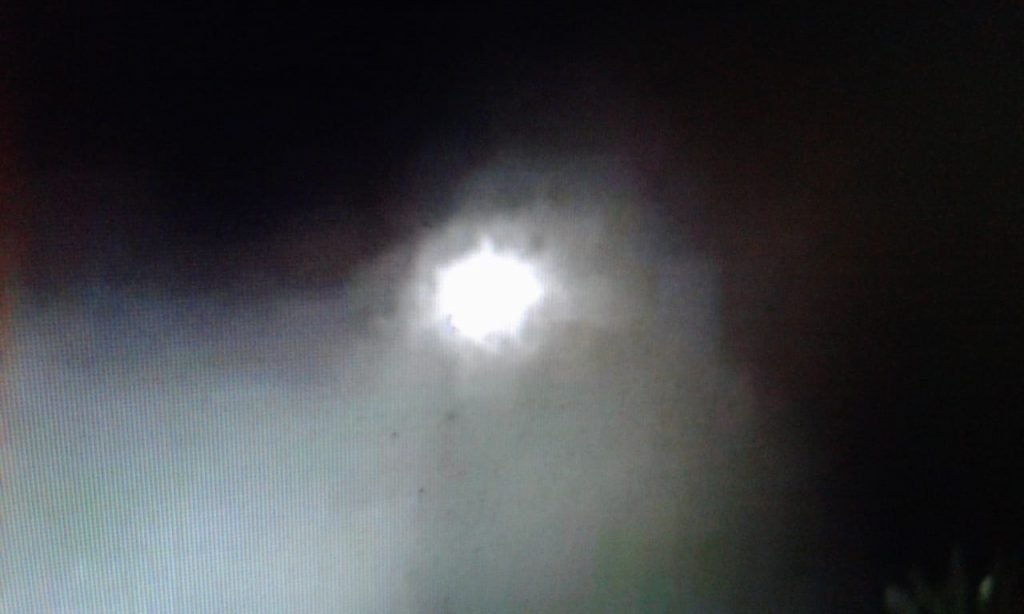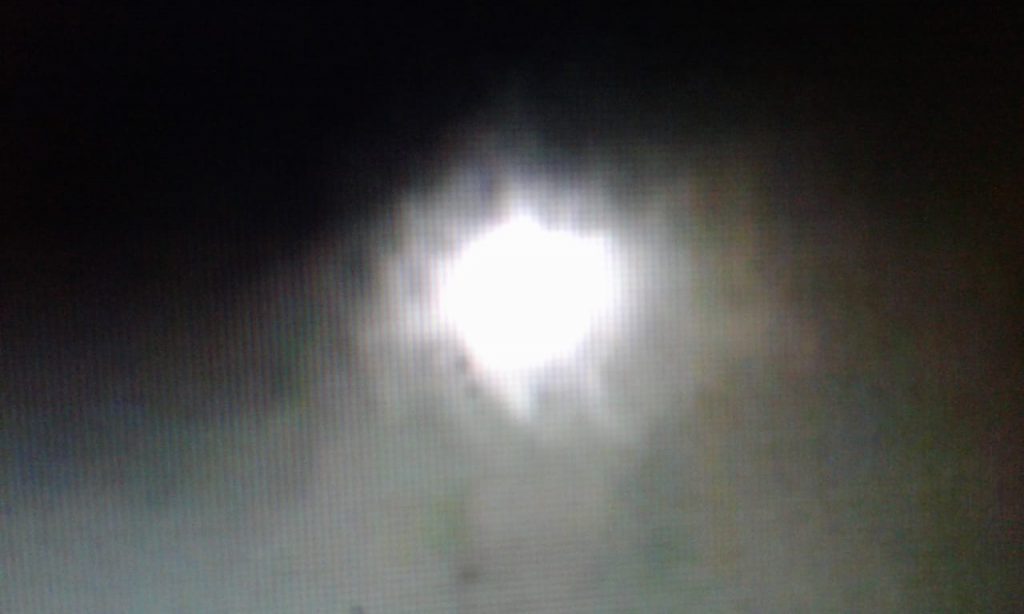 ---
SECOND MOON- 1st. CYCLE
7-5-2020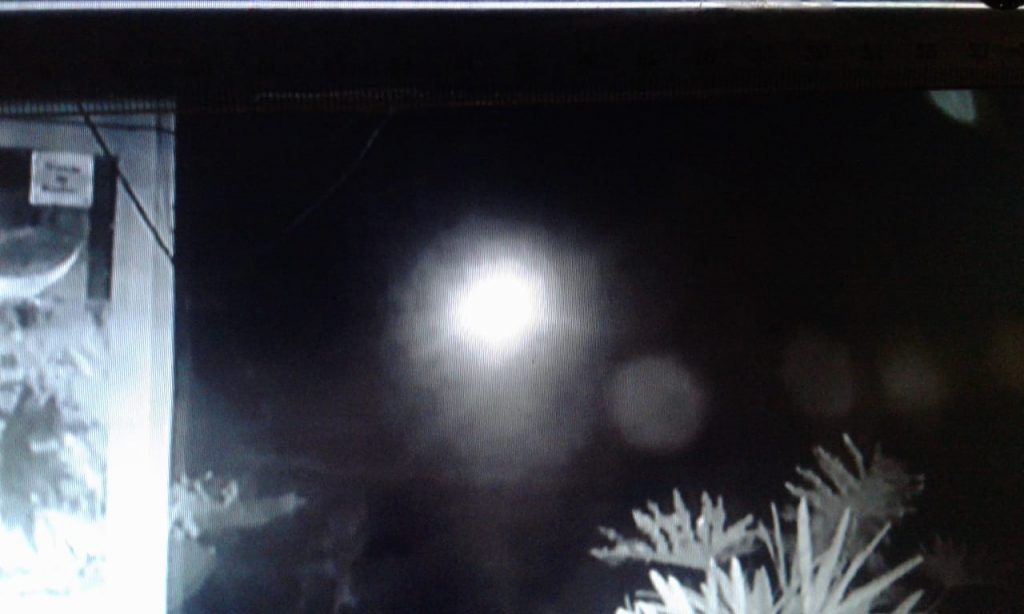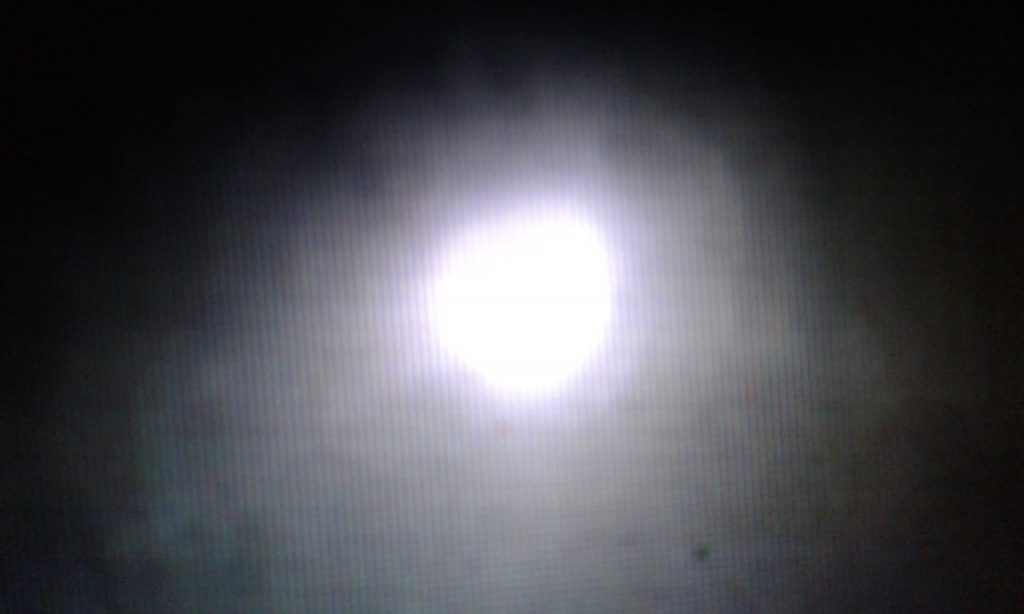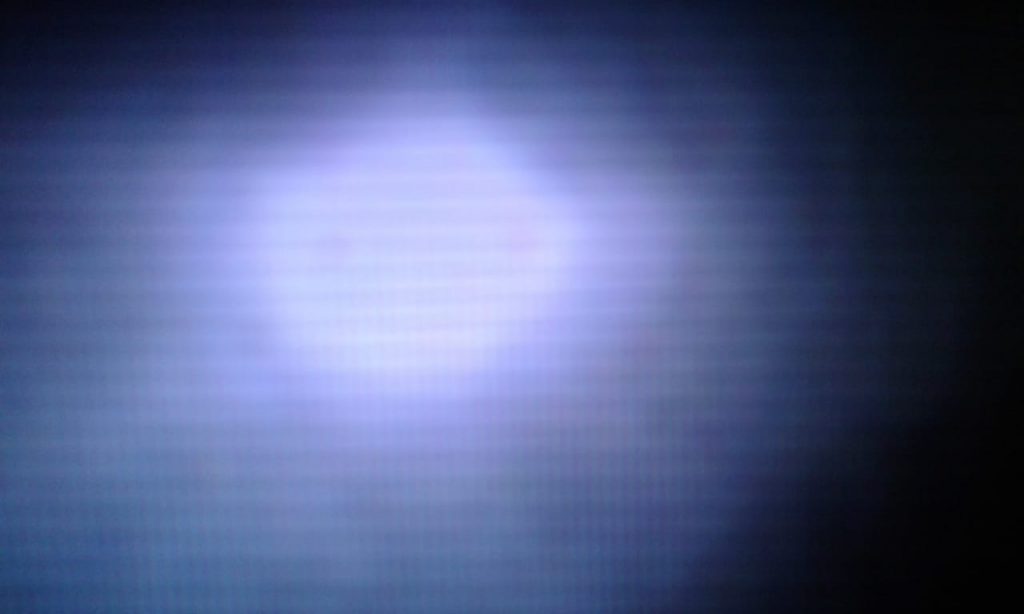 ---
SECOND MOON- 1st. CYCLE
8-5-2020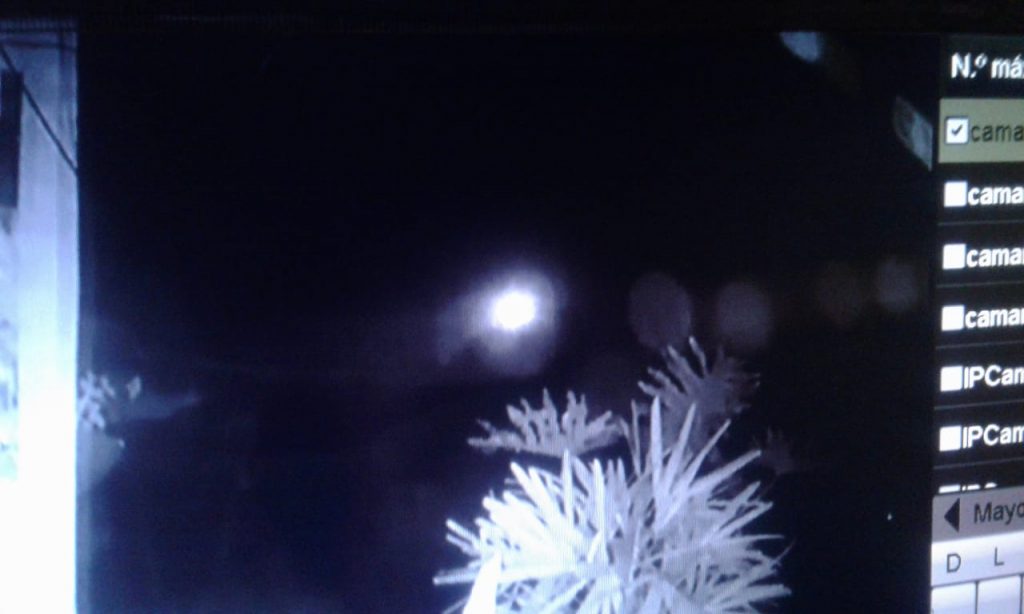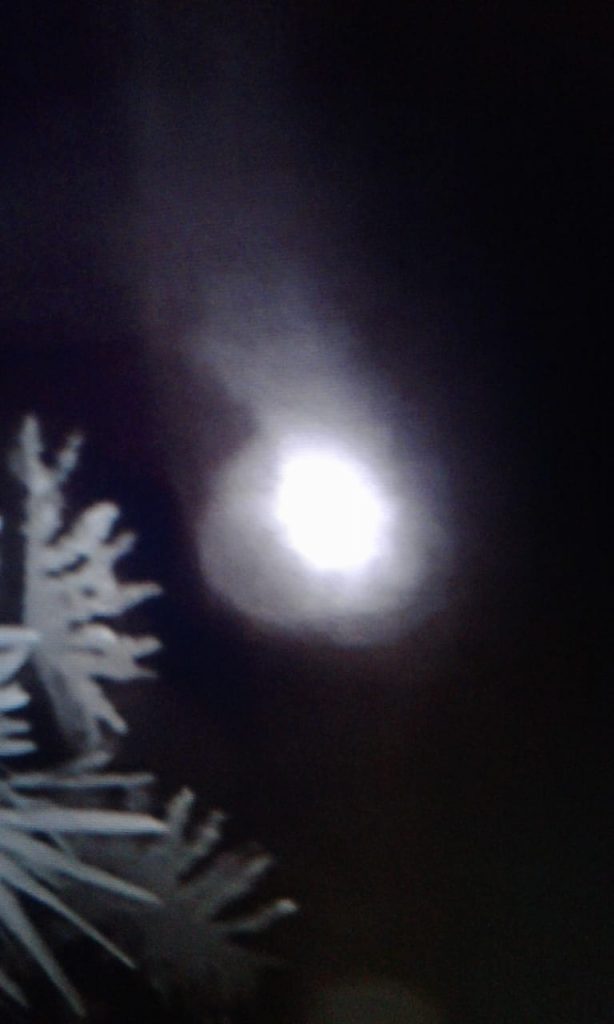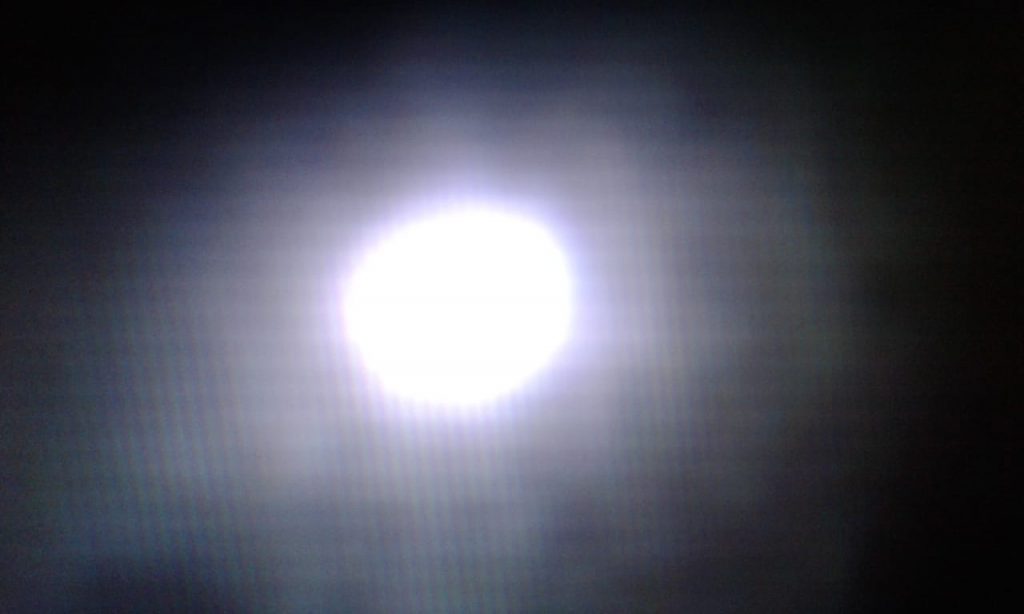 ---
SECOND MOON- 1st. CYCLE
9-5-2020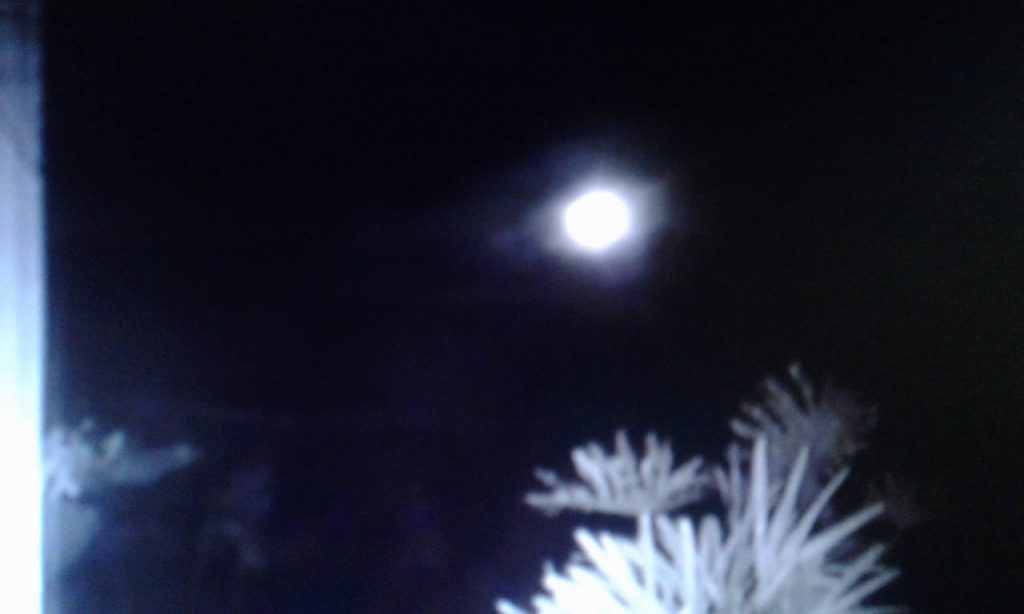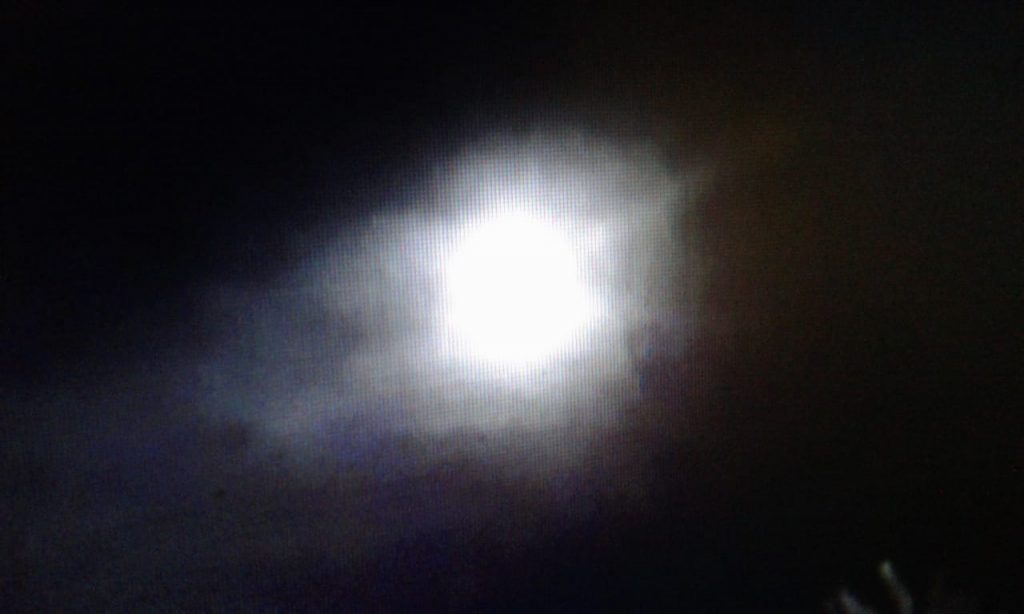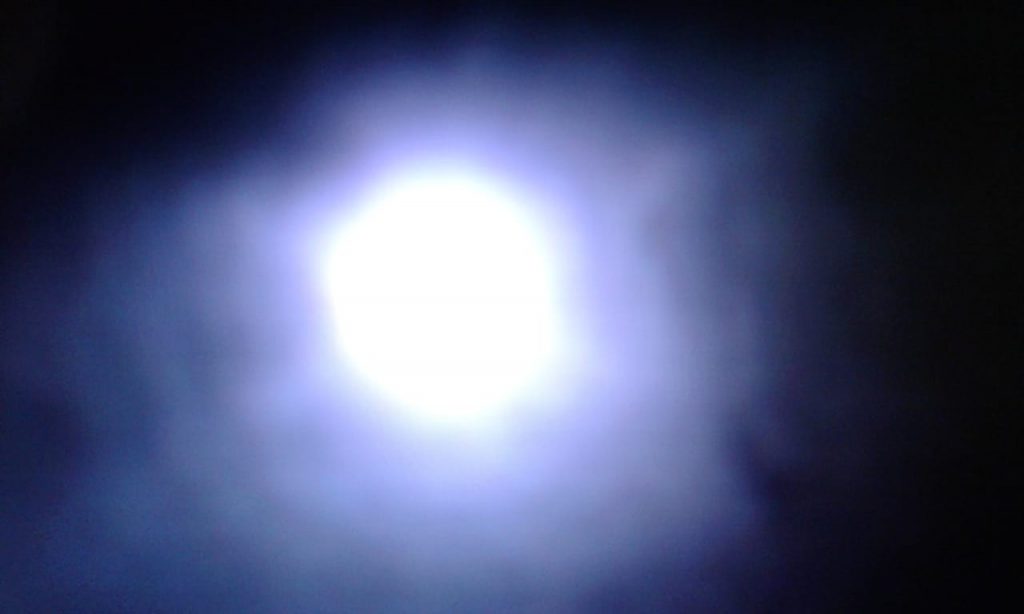 ---
SECOND MOON- 1st. CYCLE
11/12 -5- 2020
"U" TOUR – FINAL AT 00: 58hS IN RETURN TO THE EAST IN 2¤ TO THE EAST
AND FIRST MOON- 2nd CYCLE 12-5-2020 SOON TO ECLIPSE BETWEEN THEM AND US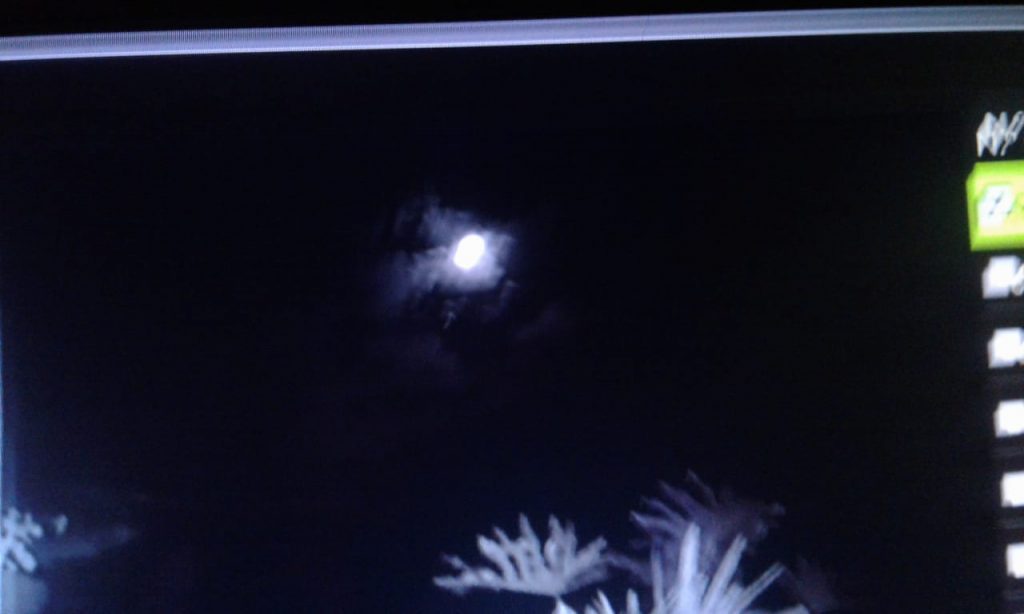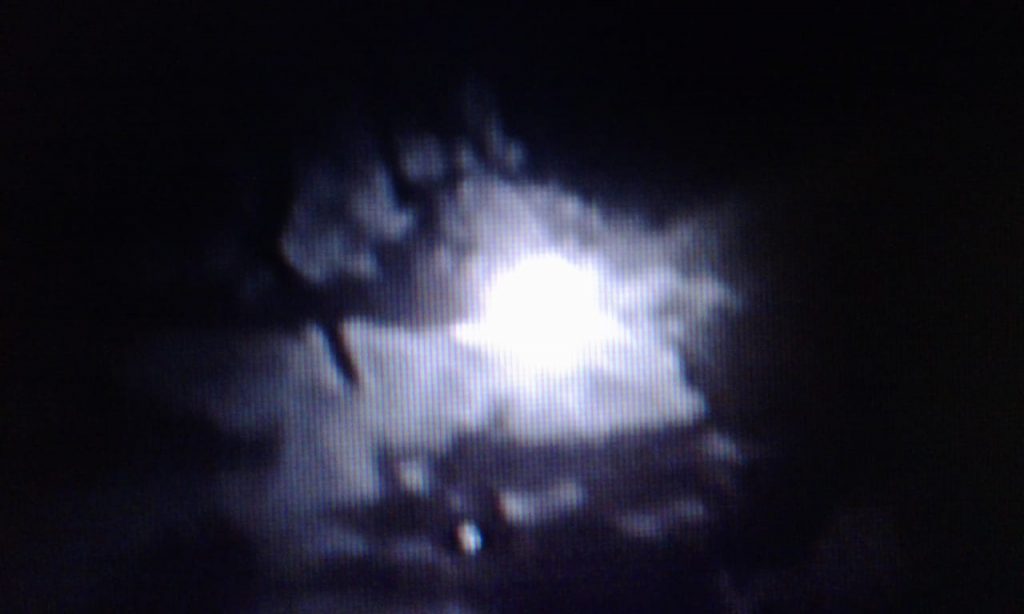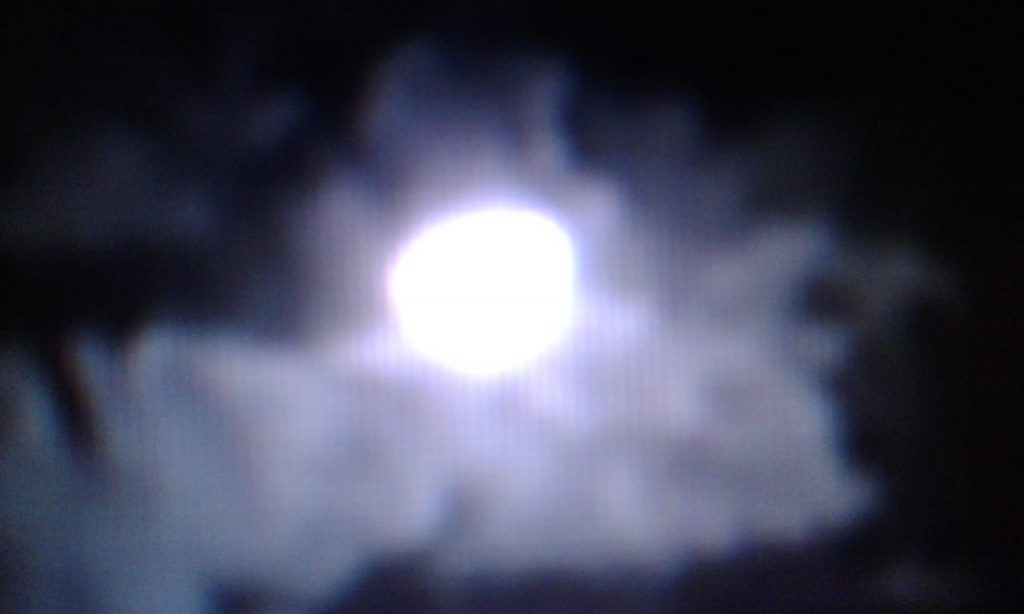 ---
SEE THREE MOON RIDE IN 24 HOURS
SEE ON SCREEN AND ONLY PER CELLULAR CAMERA, HOW THE SECOND LARGE MOON APPEARS TWICE IN 24 HOURS, TOGETHER AND ALSO ON THE FIRST SMALL MOON.
---
LIGHT THAT IS NOT LIGHT IV
LIGHT THAT IS NOT LIGHT IV, ACCOMPANIED BY 2 IMMIGRANTS FROM 3-4-20, 2 EGGS AND WEAK AND INTELLIGENT LIGHT FROM FAROL
---
SECOND MOON- 1st. CYCLE
14-5- 2020
This second moon continues its translation to the East. It moves away from the earth, decreasing its chaining that allows us to see the shadows of its topography, which we are now observing two of them in its center, similar to those shown by the other moon in its first cycle
Today he shows us his silhouette of a heart. I mean, both moons are identical
Both moons move away from us, to the point that the other Moon no longer appears on the screen, as already announced
FULL MOONS IN PERPETUAL CONDITION
If astronomically that state is only possible once a month when the Earth is between the Sun and the Moon and it is at 100 degrees, and we transfer that reason to the same current phenomenon of the two new moons of the other dimension that orbit them always lit at 100% to your planet, and in these positions always rigid throughout the orbit of the Sun, this will lead us to wrong conclusions
Because if that is the explanation in the planetary system where gravity is the cause of the orbital movements between them, in a scenario in which the planet is necessarily the one with more mass than its orbiting moons, in Newtonian language, consider in the new analysis that in the dimension studied this does not happen, that is to say that the existence of these gravitational forces is unknown and that everything obeys very different principles or laws
But we must safely start from the position of the brown star and the functioning of the solar system of the constellation to which the Earth belonged, with my contribution of new data, and that from now on it is of no interest to search in the shadow that the earth of that time impacted these moons, as a faithful reflection of the quantum of mass that the planet possessed, because in the absence of gravity, it is not necessary for the Earth to have more mass than its satellite moons
Therefore in this new dimension we will know who the planet is and which are its satellites only according to who is the orbited body or which is the orbiting one.
And if time is a variable to take into account, to admit these new concepts we must forget about those theories of the instantaneous appearance of all matter and contemplate others that augur the gradual accumulation of it.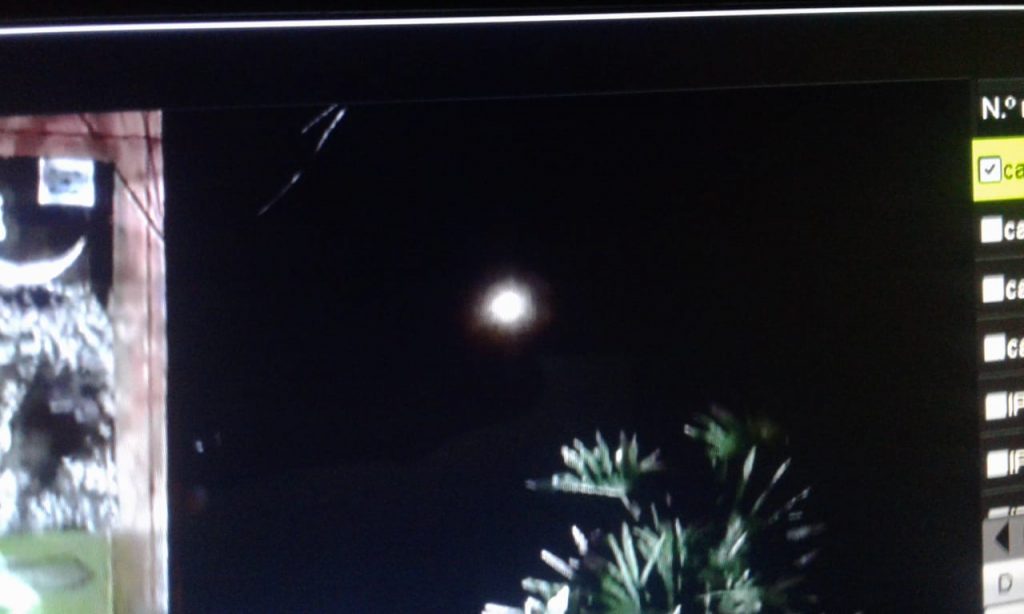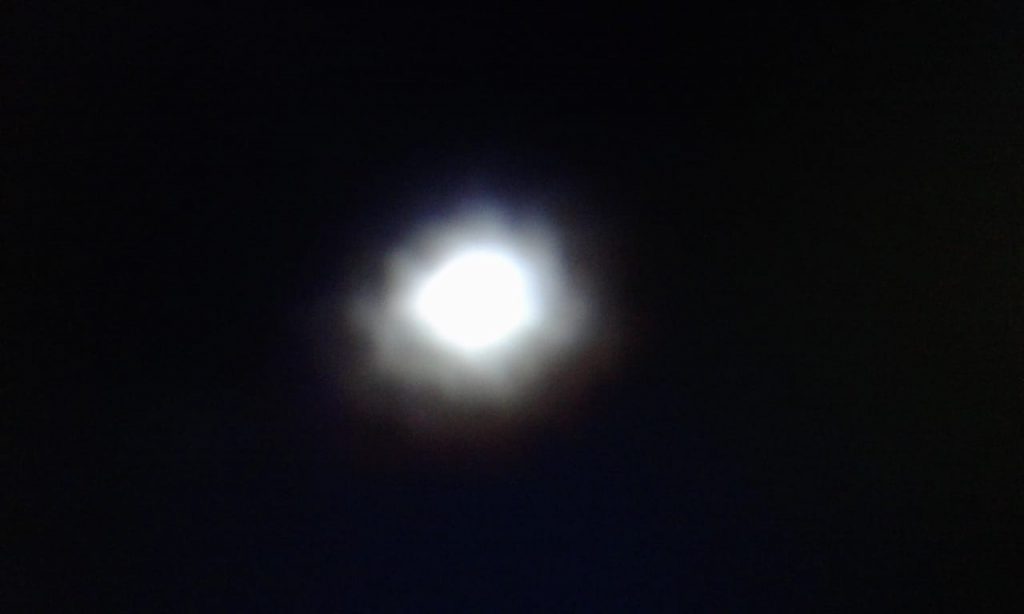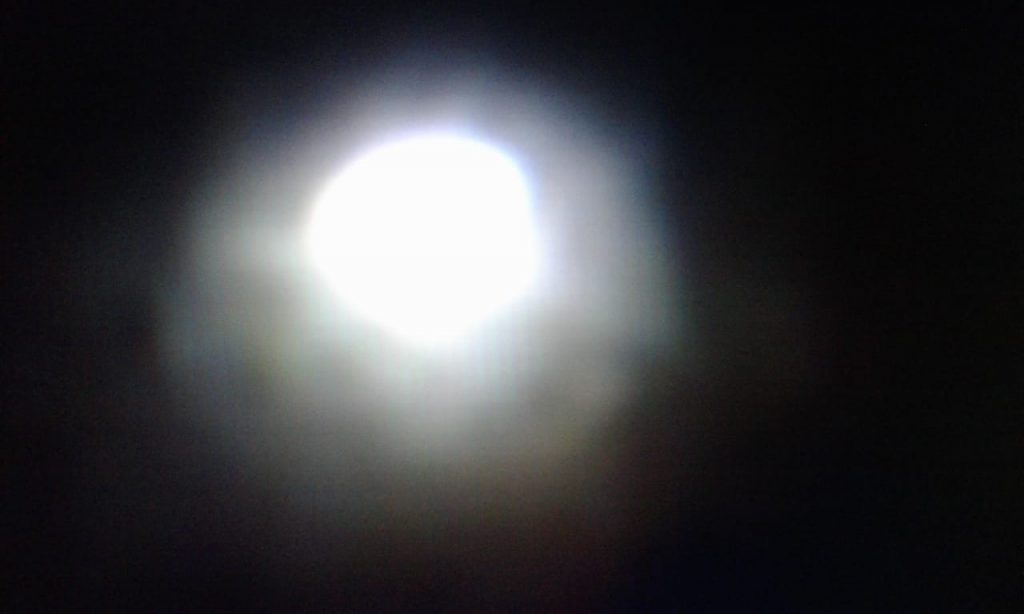 ---
SECOND MOON- 1st. CYCLE
15-5- 2020
He continues his career to the East decreasing its size due to its distance from Earth, but notable in this film are the shadows inside this cramped moon
It clearly shows a set of four shaded areas in the center of this Moon, the lower one on our right, the strongest or black, as if it were a crater of great depth. This can be seen on video
1 video and 3 photos in positions:
1- in first appearance
2- intermediate
3- expanded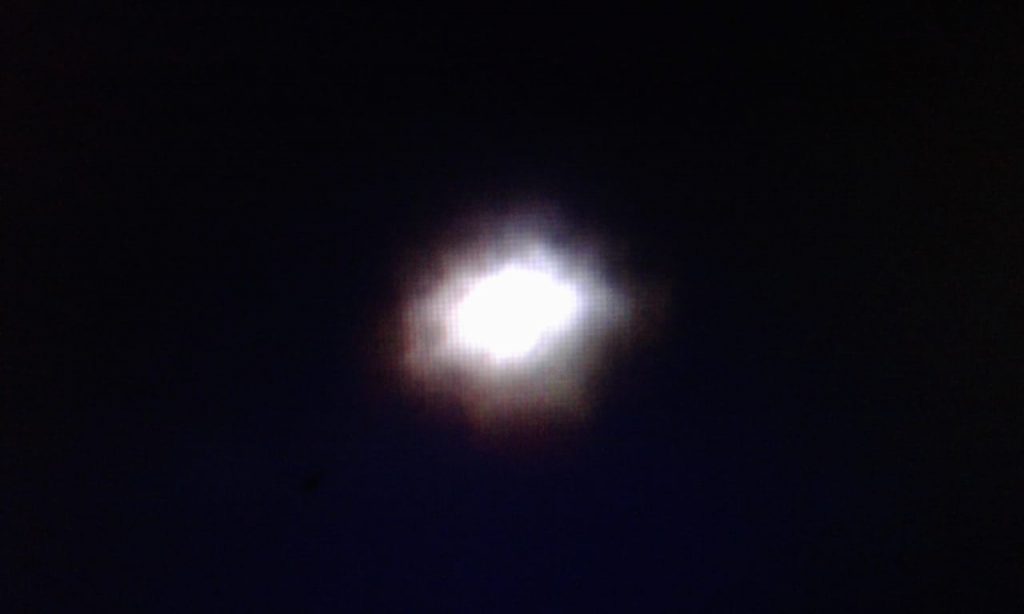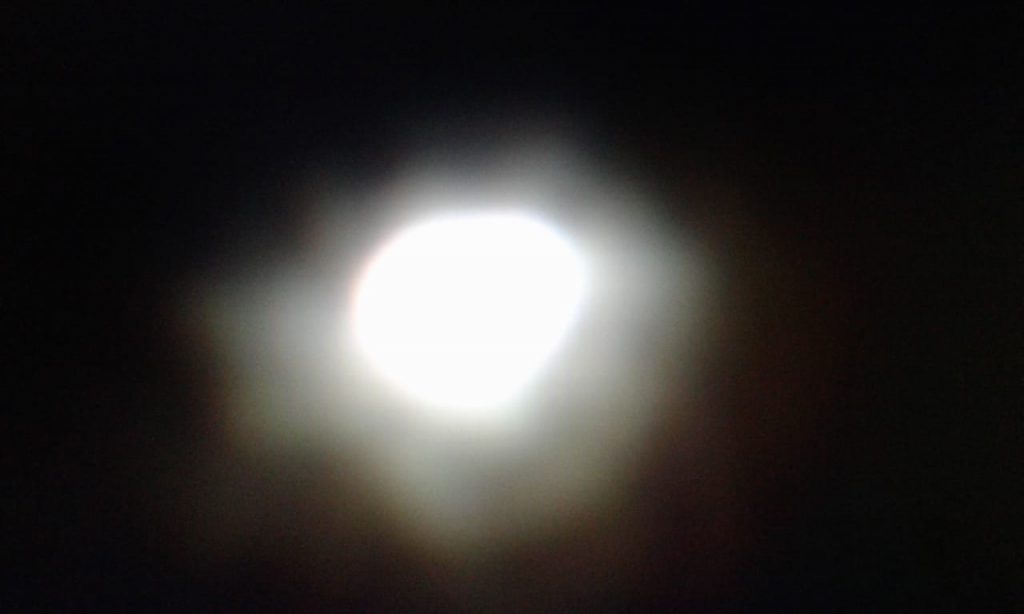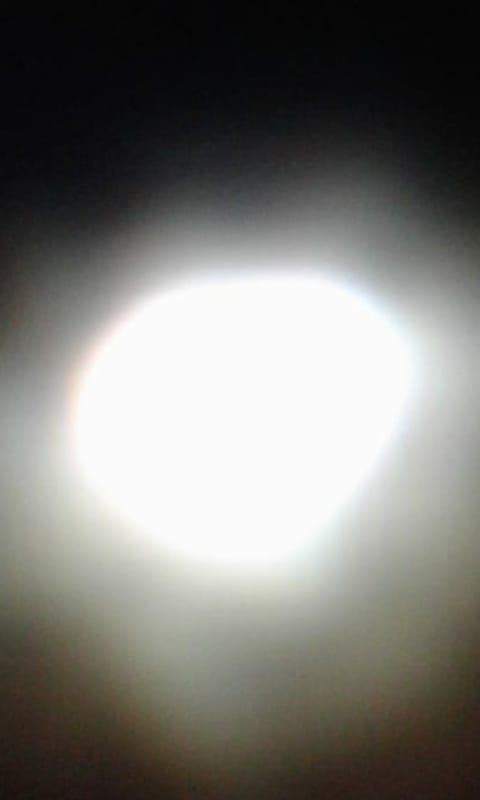 ---
SECOND MOON- 1st. CYCLE
16-5- 2020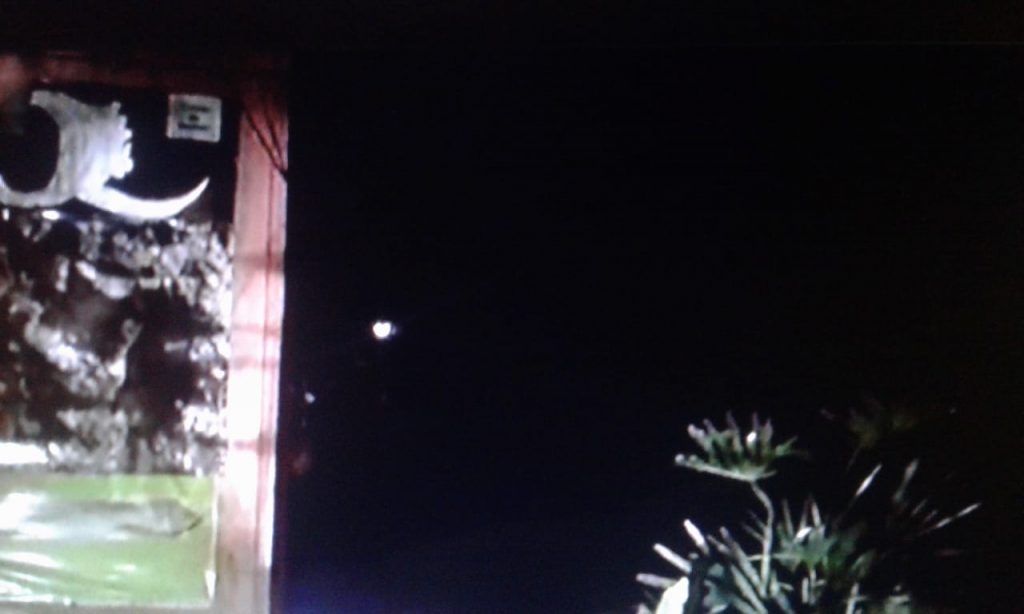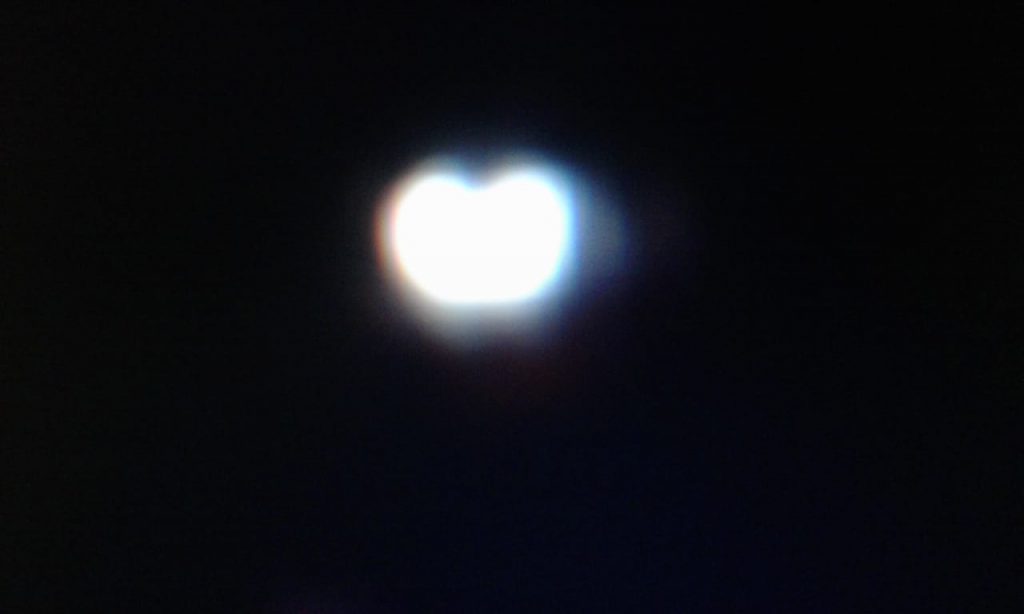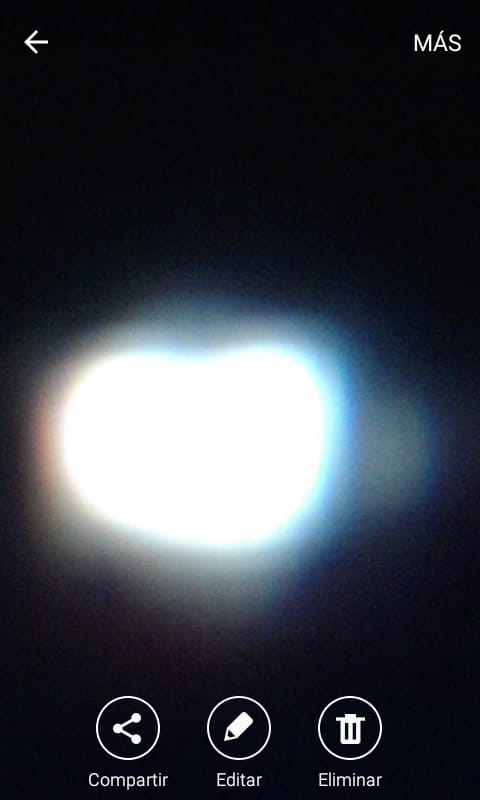 ---
SECOND MOON- 1st. CYCLE
17-5- 2020
Last photos waiting for the 2nd Cycle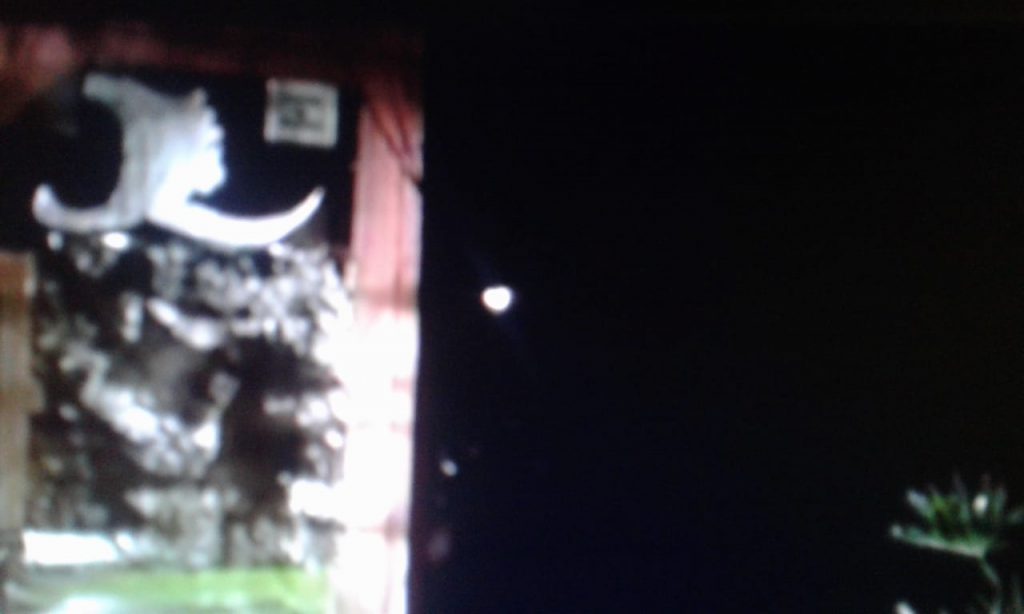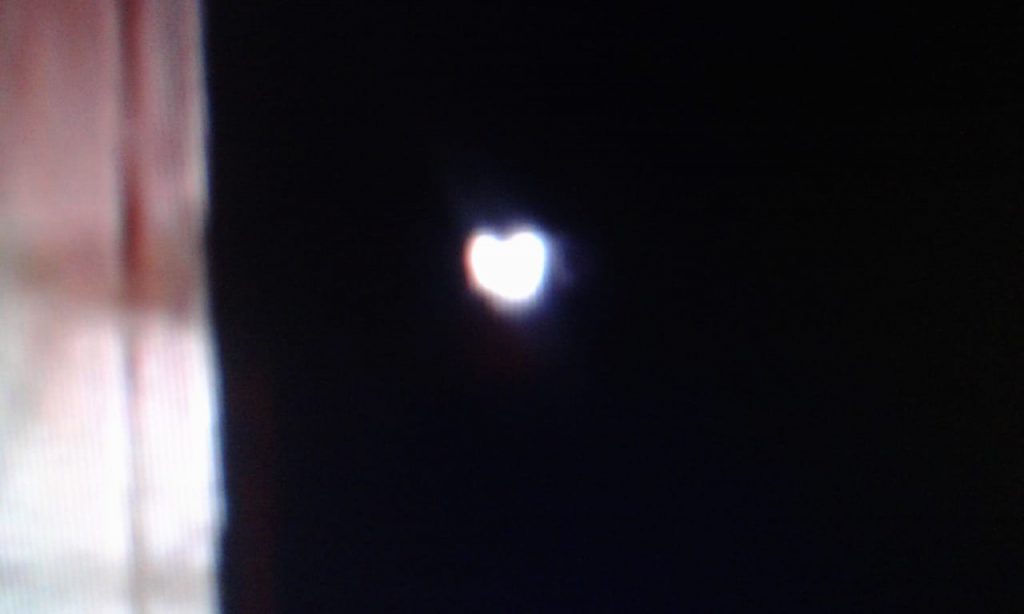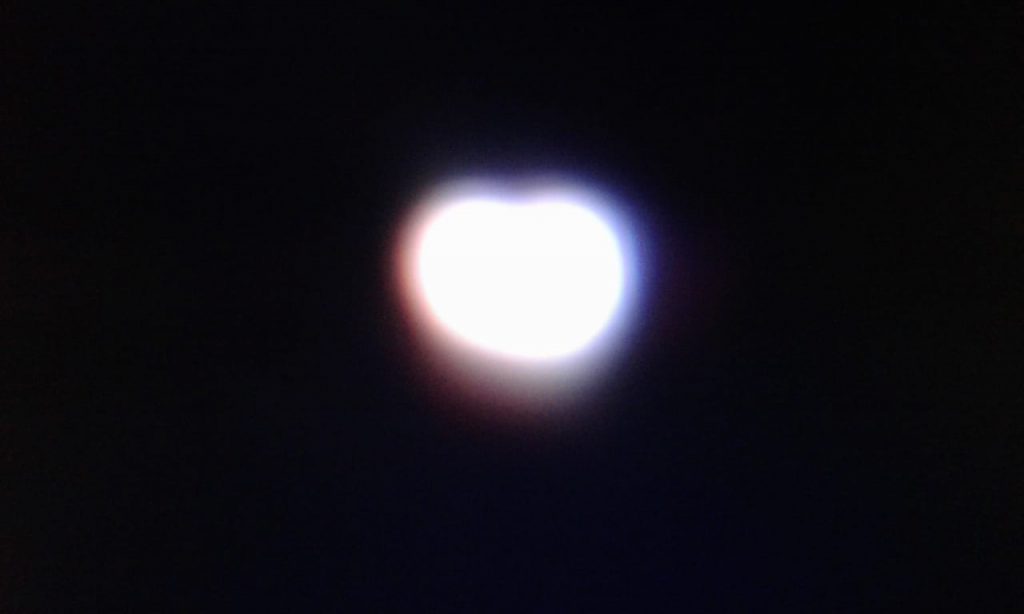 ---
THE RETURN OF THE RED LIGHTS
SECOND CYCLE
1-5-2020
These red lights and the two Moons are mainly the phenomena that being outside of our nature, glimpse the origin of our planet in the constellations outside the Solar System. Both go hand in hand.
In the first cycle these lights appeared ostentatiously on the edge of the Noorhn stonemason, and behind it, on the black tiles of the courtyard.
Now, these lights in this second cycle appear displaced to the floor, that is, by the movement of the emission source of that light, which is the current brown star in that first time of creation. This shade of pink of the wall that surrounds it, makes it difficult to see and distinguish it, which is why I have put two videos of normal mornings before and postponing this astronomical event.
In any case, we will wait for the third cycle to come so that the event becomes more clear.
It should be noted that in this field of different natures, the phenomena are usually accompanied by different ones.
In this case, the video of the 05-16-2020 occurs on the same day or hours later, the main event of the Solcito appears, opening the other dimension at the same point, where they are also expected by various beings who will know how to see on that edge of the Noorhn's Black Stonemason.
Between this and the First Cycle there is hourly correspondence, given the advance of time and the Sun of that Constellation.
And in line with this we hope that the Third Cycle will be fulfilled by 05-25-2020 if we take into account that these orbits are repeated every 25 days approximately.
---
SOLCITO OPENS ITS DIMENSION
16-5-2020
13 hs 39′ PM
This time I manipulate the camera.
On my cell phone, and not here so as not to lengthen it so much, I film moments before the appearance to the solcito, that due to the differences that you will notice, these visivilized beings prepare themselves at the arrival of the Solcito, manifesting their evident revelry.
This, as always, is located ahead of the Sun and, again, it is a complex and complete entity that approaches us in fulfillment of a mission, putting ourselves under its control, and whatever it may be, and it is the most wonderful experience that a human can enjoy the unknown.
This higher entity has an attribute to influence and modify our dimension.
DOUBLE A VIDEO OF "SOLCITO OPENS ITS DIMENSION"
COULD REPEAT THESE VIDEOS ALL SEASONS
---
VIDEO REPEATED IN ALL SECTIONS
THE COSMIC ARACHNID IN MOTION.
March 10, 2021
I repeat it. It corresponds to November 25, 2020. I would have to reinsert it in each Section, not only because it is the most viewed, but also because it shows his body movement. In addition to the fact that the content of this website is very long, most readers enter only one section or another and fail to see that these beings by their will if they have sustained movements in a way that we can recognize.
And for this reason these new forms of intelligent lives are precisely misunderstood, because they lack movements. For months, night and day in quiet that is not leisure. They make and carry out their natural mandates. Although always stiff, which, added to their lack of defined lines, resemble for these causes more indefinite spots or small white or raw clouds without bodies or faces floating, than to intelligent beings or individuals or animals of our nature that have been seen or imagined.
ARE IN GENERAL, ACROMATIC AND INANIMATE GEOMETRIC FIGURES
That is to say that they have no recognizable form, to suppose them to be "lives" by themselves, nor their intelligence since they cannot distinguish a face where it can fit. No feet to walk or mouths to feed. At least now we see him doing "braceadas", in the style of our dancers. As for the face, once I manage to see it only to this being, and to others but in doubts today.
In this video one of them "comes alive" because he moves abruptly for the only time and without concealment in annoyed response to my express request not to leave that music room until they show me his face. After a month it fulfills in this way how they are seeing it and moves to the adjoining gallery. The other that you see next to him, continues for 5 months also faithful to my request to always have him close to me in case I need him. But to make it possible, I do not allow anyone to enter, or to clean that room. I have it closed although I can enter without turning on lights, unless it is from the cell phone.
I will repeat it in more, to help the understanding that the stillness of those other figures, is just a pose chosen by their nature, and that I compensate it with the animation accelerated by spacers of the cameras in intervals of 30 "each. , that otherwise they would go unnoticed.