04 Aug

OTHERS FILMS XIII
HOUSEHOLD PALPITATING LIGHT- EVERYDAY LIFE
It is installed in the upper part of the house, where I keep my string instruments. It is three meters wide by one and a half meters high, although with less intensity it is scattered throughout the environment.
The attraction of her to settle at this point, also to rest from me, may be that two groups of flowers resurrected by me, I keep them in some drawers and inside some plastic tubes sealed in the drawer that I leave open expressly , looking for another link to the causal link that I am pursuing, that if I succeed in the end as you will see. And it is also on other yellow flowers that are the ones that you are seeing.
She, the white glow, is posing on them, and also on the gilded metal vases with the bones of my great-grandparents and on my cello. The horizontal black stripes are from my camera.
There are 4 videos. The first is the main scene in which we see her appearance in her play of light. The second is the next morning for them to see the persistence of these beings in their positions, but they will involuntarily leave after 48 hours. The 3rd. It is a photo more similar to the real thing, since the black stripes diminish in my photographs. And the fourth is that she measures her distance because she feels invaded by me, when I occupy her space, as I previously announced.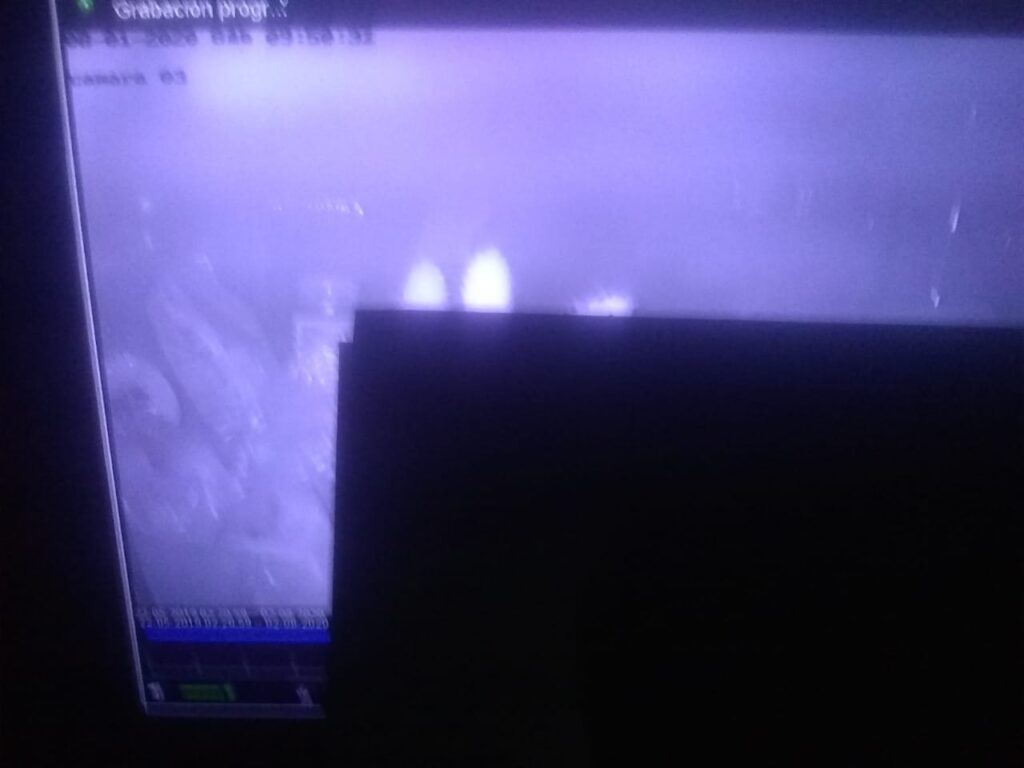 ---
PYTHAGORAS
Sometimes I feel with my research in videos, before the general skepticism, living the same mistake of the first Pythagoreans, who saw mathematics as the solution to understand the universe having in their hands the explanation of the roots and sources of nature , but which then evolves and renews scientific knowledge justifying everything with the reasonable mathematical reason, to which I have no aptitude to resort, and it is possible that I have come with my studies only to do nothing more than a graphic literary work in the style of Eisner .
If these images at least transcended, my goal would have come to an end and satisfy my desires, which is to be influential in others, who from today, will not be overlooked when they stumble upon my own experience and will make these early discoveries flourish. the Other Faces of Humanity.
---
HUE – GREEN REPEATS ON BLINKING ON A NIGHT OF SKY COVERED
Continuing this light event in the early hours a.m. This change of lights is repeated and I do not film it as unnecessary now.
---
CHANGE TONE ON O3-08-2020 HS A.M. 00: 22: 00- SKY COVERED.
---
THE UNTREATABLE OCCUPY THIS ENVIRONMENT 24 HOURS AND LEAVE THE COURTYARD OF CAMERA 1 / E.N.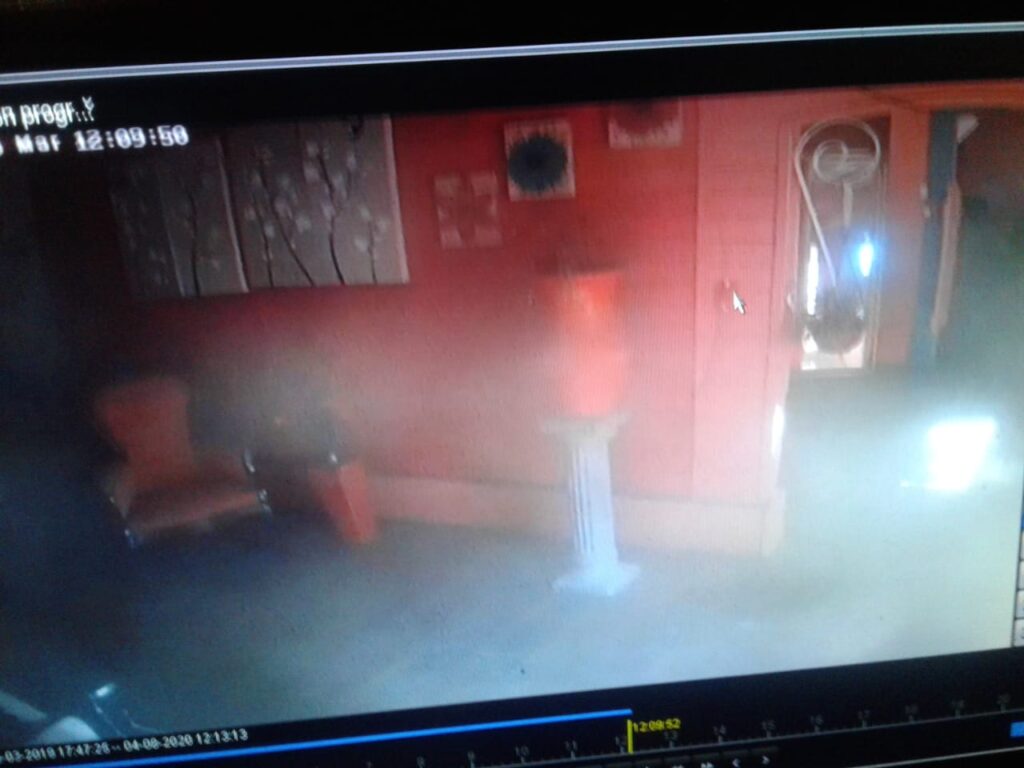 ---
RETURN TO HUE AND ITS EFFECTS ON OUR NATURE
I review the cameras and while I observe the causes of the movement of the orange carp by another camera, the 04-E / V, at the time of these changes in shades, another and more pathetic data appears to me due to the concurrence of these dimensions although in degree of weak hypotheses. So it could be the clearest link in the causal link I'm looking for
It does not seem possible, but the movement of the plastic fabrics of the tent, which being calm before and after this phenomenon, marks evident distortions when it is present, and that it is not the work of the wind, as you can see. But it is not all or the most interesting.
The breeze begins with the change of hue, and disappears along with the phenomenon of lights. In other words, does it open up the question of whether sometimes our meteorological phenomena respond to causes that occur in another dimension? Although both events do not necessarily occur together. This exceeds me. I will record it in original videos, or since I had my family in those times, I have to reserve it for another opportunity.
One caveat.
In the left and upper margin of the screen, they are seeing what look like fibers that move to the rhythm of the wind. But it's not like that. They are the hairs or the body of the three Cosmic Arginids that have been there for a long time and naturally have these oscillations.
---
I PERSIST WITH THE MOON AND I SEPARATE ITS 8-HOUR TRACK IN THREE SECTIONS, TRYING TO SHOW THEM THE BEST POSSIBLE, AVERAGE ORBIT VISIBLE FROM MY POSITION.
I only clean the plant that interferes with the third station of it. Later I will try to modify this.
And I intend that we see the possibility of being three satellites of different masses and glued in a tiny distance between them, orbiting our Ancient Moon, or four of them, according to clear and previous photos
See this photo that exhibits three of them.
FIRST SECTION OF MOON FROM HS P.M.19: 31 ': 00 "TO HS. A.M. 22: 00': 00"
SECOND SECTION OF LUNA HS A.M. OO: 21.00 A HS. P.M. 1.17.OO
THIRD SECTION OF MOON BY HS A.M. 01-40-00 A HS A.M. 03-48-00
I resort in this last section to the images of the other camera 2 for showing it a little more enriched.
This is mixed with the nebulous flakes with which we see in this other dimension, but today an additional additional data is added to the heights with which we capture the observed objects
See how the moon lights one of the flakes on its right, at its side, and that descending our Moon sweeps it from a forward and descending position of its own light, also to said flake, meaning that these flakes accompany the Same altitude level as the Moon, or better, the flakes are behind it. They are flakes and not clouds, because it is and they are clean and clear nights, according to my direct and face-to-face observation.
So what are these flakes made of, being from another dimension without any doubt, can they receive in the light of our Moon that is from another, or our dimension?
This is another link of the causal link between both natures, those that are already close to ten, an amount that opens the main question of concluding whether they are two dimensions or one, which we will be able to answer later, but based on the fact that This is an astronomical physical event of our objective reality, in which both natures share the same scenario, since we all see it as something identical under our observation and coincidence.
Perhaps there is another condition that is necessarily missing, to conclude that this event is part of our own and only reality, like any other object on which a scientist investigates? I think not, use whatever method, even if I repeat it a thousand times as I am doing it?
If you object to my resources of being very personal, to show the object of interest, such as entering another dimension, it will be a matter of considering it and waiting, because nothing resists the sciences.
---
THE INTRATABLES ENTER INTO ACTION
Before we have already seen this when an Intractable enters the tent to disturb them that forces the Penetrating Lights to move, a fact that makes them creditors of the nickname of intractable in the colony. In this video it is more notorious to be about these extra-visiting beings.
Look at the invading aggressor in the previous video that enters into a temperamental or violent attitude disturbing the peace already acquired by the Intratables. One of the assailants, with a rounded shape and as he passes through this residence, flies over it with unnecessary speed, but in our favor he leaves his shadow printed on the white metallic sign for prevention by poisons that could affect visitors, and by the projection led and infrared lights, which facilitates research on their anatomy and physiological constitution and the shadows they leave behind. It was a night operation and the study of those shadows, which denote the projection of quanta of photons and bouncing off that body with matter with interest to their study.
---
THE WIND AND THE TONE
2 cameras
C 04-E / N
The change of tonality begins on August 2, 2020 at hs p.m. 21: 34 "57" that throughout this day remains calm and warm. The wind does it seconds before and intensifies along with the changing tonality.
Between one film crew and another there is a 3 'difference. There's the 3 'delayed E / V.
What should they see? How the orange of the tent fabric fades, and how the green of the vegetation intensifies
The first video starts filming about 10 seconds before the lighting event and continues until it encompasses both events, which will continue to pass at midnight when the key repeats itself
At p.m. 23: 00 ': 00 "this effect is interrupted for 11', and in another 12 'the shades are restored until p.m. 23: 26': 00", returning to the hs a.m. 00: 47 ': 00 "of the following day that will last until late in the day, but now with a calm wind, and without noticing any anomaly in the sky, the time becomes cloudy and we lose sight of the hues.
The other chamber, the C 04-E / V, which is further away, is more eloquent, because it shows the vegetation of three pots. Start more early so they can appreciate the calm or zero wind, and continue until he arrives.
---
THE CARP RISERS
---
THE SUN, THE LITTLE SUN, TRANSLUCENT PLANET, THE RED AND THE GEOASTROMIN I, "THE POWERFUL"
July and August 2020.
---
IS IT "SURREALIST AERIAL FAUNA" OR "PLANETARY SURREALISM"?
8-8-3020
Three videos
Tonight at approx. hs p.m. 21: 00 ': 00 ", like any night, this is how my sky looks under cameras 2 and 4 of the E.N., without infrared lights
They are controlled by the other adjoining camera, by my camera and under my personal gaze that they see nothing, except the darkness of the night in total black.
Its result is at the discretion of the observers.
The 4th video, and now with infrared lights, I test first with the lens of a sunglass and it performs well at night.
Next I try with the magnifying glass lens viewfinder, because it can faintly highlight some color, as it does now
But we never see flying insects, more than the first video, which could be due to their small measurements or fast speeds. We will continue with other samples of viewers, until we conclude the possibilities of being them of the fauna of our nature and not natural flying objects of the other.
---
THE SUNS
Saturday 8-8-2020
I have to take care of the Sun, and I will try not to confuse me as the Moon has done to me, to the point that to this day, I do not know how many moons exist over my house.
First video
Today is the Sun with the Sunshine, but from another angle and favored by the smoked glass of my sunglasses that I superimpose on the camera. It takes away the color from the Solcito, since I see it reddish, as is the Sun when it rises.
See this in the first video. But despite my unpresentable instruments, the Sun looks beautiful accompanied by another that follows or orbits it. It was necessary to get to this video to distinguish the physical independence between it. We will see it little by little. And I will advance in the following ones, trying to separate the Sun from its members or from its Court, among which we already know who they are, is the Translucent Planet and the Powerful Geoastromín I.
This is undoubtedly only conceivable or possible in a weightless space, which otherwise nothing could be kept apart from the gravitation of the Sun and inevitable its disintegration by explosion when struck by its proximity.
Second video from hs a.m. 11. 20 '43 ".
Today we can see that the Solcito orbits the Sun, and that when it arrives in the next three hours over my house, it will shine as if it were its dependent emanation and before it, which will fulfill some of its functions that we see and know about it.
And as he continues his march, we will no longer be able to look at him because he does not arrive with my cameras, or because my mission is only to make you know globally this new and unknown civilization of the invisible, because the analysis and empirical development correspond to the sciences.
Keep in mind that being months ago on my house, I had placed the black pad on it, and that time we had seen the Solcito and we measured it in less than 15 cm in diameter in the plane.
Third video
By other interesting
I put, in addition to my sunglasses, my standard Visor, by which I separate the individuals and phenomena of both dimensions safely for third parties.
Look at everything that heaven has, and that is not ours. Do not look for our Sun, because it is of our dimension and cannot be seen. However, there is the Solcito, and others who already know.
Look at the "08" of the hour above the screen or put your finger in the center of the Sun, while he is, and advance the video by incorporating me into my viewer slowly or at the end when withdrawing it, and you will see him at the Sun, there far and still. Measure it, contemplate it, and marvel at it.
---
WHAT IS EXPECTED: A CELESTIAL BODY APPEARS IN TRAVEL AND CAUSES A CHANGE IN TONALITY
Three videos
We are close to confirming that the change in tonality responds to the appearance of planets or bodies in space
Fortunately, forgetting to remove the smoked glass that covers them from the cameras, what I expected appears, which is a planet in regular travel, with the addition and coincidental change of tonality that is a frequent phenomenon here.
But it can also be one of the Moon's satellites in orbit, no longer circular, but eccentric.
---
THE 4 CLOSEST NATURAL SATELLITES TO THE COURT OF THE SUN
10-8-2020
There are three little Suns that orbit our Sun, of disparate masses. Sometimes, for a better view, I have to lower or raise the cameras while I am recording.
I include Geostramine I, which before we see orbiting it or the Sun, which is the main Fundamental Force of the First Dimension of the invisible energies. We have also seen it in a circular way in green and red metamorphosing until it is rebuilt into a planet. And all within a planetary system where the unimaginative is the rule and not the exception. It would be in these images the smallest of the three.
The largest and ovoid, we have seen it before as if it were a piece of porcelain with oblique colored stripes. And the third is the Solcito who is the first to appear
The 4th natural satellite of the Sun is the Translucent Orange Planet that we see every day orbit it and be present in all the videos.
---
VIDEO REPEATED IN ALL SECTIONS
THE COSMIC ARACHNID IN MOTION.
March 10, 2021
I repeat it. It corresponds to November 25, 2020. I would have to reinsert it in each Section, not only because it is the most viewed, but also because it shows his body movement. In addition to the fact that the content of this website is very long, most readers enter only one section or another and fail to see that these beings by their will if they have sustained movements in a way that we can recognize.
And for this reason these new forms of intelligent lives are precisely misunderstood, because they lack movements. For months, night and day in quiet that is not leisure. They make and carry out their natural mandates. Although always stiff, which, added to their lack of defined lines, resemble for these causes more indefinite spots or small white or raw clouds without bodies or faces floating, than to intelligent beings or individuals or animals of our nature that have been seen or imagined.
ARE IN GENERAL, ACROMATIC AND INANIMATE GEOMETRIC FIGURES
That is to say that they have no recognizable form, to suppose them to be "lives" by themselves, nor their intelligence since they cannot distinguish a face where it can fit. No feet to walk or mouths to feed. At least now we see him doing "braceadas", in the style of our dancers. As for the face, once I manage to see it only to this being, and to others but in doubts today.
In this video one of them "comes alive" because he moves abruptly for the only time and without concealment in annoyed response to my express request not to leave that music room until they show me his face. After a month it fulfills in this way how they are seeing it and moves to the adjoining gallery. The other that you see next to him, continues for 5 months also faithful to my request to always have him close to me in case I need him. But to make it possible, I do not allow anyone to enter, or to clean that room. I have it closed although I can enter without turning on lights, unless it is from the cell phone.
I will repeat it in more, to help the understanding that the stillness of those other figures, is just a pose chosen by their nature, and that I compensate it with the animation accelerated by spacers of the cameras in intervals of 30 "each. , that otherwise they would go unnoticed.